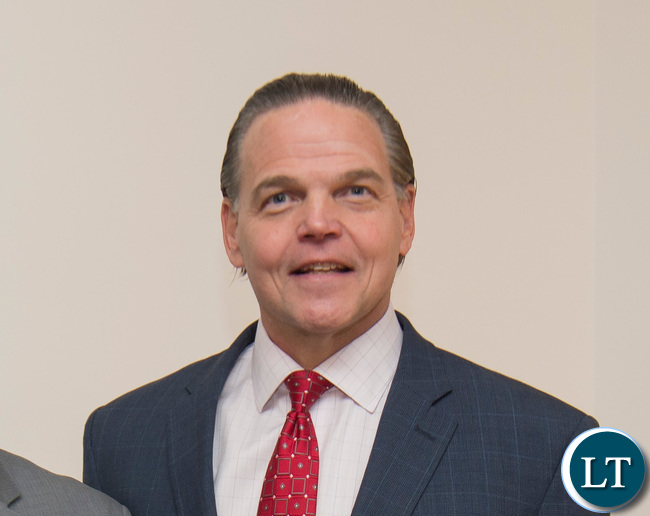 By Daniel L. Foote, United States Ambassador to Zambia
Season's Greetings! Time has flown, and at the end of my first year as U.S. Ambassador to this marvelous country, I am proud to have visited all 10 of Zambia's diverse provinces. Through my travels, I have interacted with Zambians from all walks of life, and I have learned that Zambians and Americans are not all that different. We share many of the same goals and aspirations, like wanting a stable country, good jobs, a great education, excellent health, and a better future for our children. I reflect on this past year to highlight the amazing things we have done together and eagerly await the future growth of the U.S.-Zambia partnership.
Many of you know that the conservationist in me has campaigned tirelessly for the survival of Zambia's endangered wildlife and threatened environment. Wildlife and environmental conservation benefits Zambia's tourism sector, creating investment opportunities and jobs. When I joined Billy Lombe and other wildlife conservationists on a 12-kilometer walk from Lusaka to Chilanga, I did not do it for the exercise. Rather, I wanted to advocate for community-based natural resource management, with clear community benefits, so future generations can benefit from Zambia's elephants and rich biodiversity.
In collaboration with the Department of National Parks and Wildlife, the United States' support to biodiversity in Zambia focuses on community development in game management areas and combating wildlife crime. To date, we have invested nearly $20 million to protect over one million hectares of Zambia's forest and wildlife habitat, and to empower communities to participate in and benefit from these efforts. Additionally, we have budgeted over $10 million in annual funding for continued environmental programming, which includes conservation and anti-wildlife trafficking. Following unforgettable visits to Kalambo Falls, Victoria Falls, and seven of Zambia's national parks, I still feel strongly that Zambia's wildlife and environment are her most precious gifts. They deserve greater appreciation from the public and protection from criminals looking to exploit Zambia's natural heritage.
The United States remains Zambia's largest bilateral assistance partner. Most of this assistance has been in the health sector, with more than $3.5 billion contributed towards the fight against HIV/AIDS in the past 15 years. Together with the Zambian government, we have saved over 1 million lives through the provision of free HIV treatment. All around the country, I have met mothers living with HIV who have given birth to HIV-negative children, and men and women who tested positive for HIV years ago now living long, healthy, and productive lives. That is a sign that we can beat this disease and that Zambia can achieve HIV epidemic control by 2020, ensuring that over one million of the nearly 1.3 million people living with HIV in Zambia are consistently on life-saving drugs. I believe Zambia can reach this goal, but it depends on all of us. Therefore, I urge everyone to be tested for HIV, to start and remain on treatment if positive, to ensure your husbands, wives, sisters, brothers, and children are tested and treated for HIV, and to contribute to a society free from stigma and discrimination.
Our assistance to Zambia's health sector also includes Ebola preparedness, fighting malaria, and protecting maternal and child health. When I visited Mbala in August, I witnessed the vital U.S.-supported Ebola Virus Rapid Response Team training. So far, the U.S. government has supported training of over 350 frontline healthcare workers on how to identify and respond to cases of Ebola. In addition, the U.S. government has continued to support the Zambia National Public Health Institute by providing over $2 million this year to build capacity to detect, respond, and mitigate public health threats. Malaria is the number one cause of hospitalization in Zambia and a major cause of mortality, particularly for pregnant women and young children. The U.S. President's Malaria Initiative has invested $30 million, working hand-in-hand with the National Malaria Elimination Center to reduce the burden of malaria on Zambians throughout the country, particularly in the most problematic areas. Working with the Ministry of Health, we have also helped reduce maternal mortality by 53 percent, while increasing high quality care to infants, access to family planning, and post-natal care to mothers.
In November, Zambia and the United States concluded a five-year, $355 million Millennium Challenge Corporation compact that will benefit 1.2 million Lusaka residents for many years to come. Lusakans can now worry less about water-related diseases, losing valuable time to collect water, and flood damage. Although the U.S.-supported portion of the project is complete, I commend the Zambian government for considering the long-term view through its $38 million commitment to finish work on the project. By improving water supply, sanitation, and drainage infrastructure, we have taken steps to reduce poverty and boost economic growth in Zambia.
Given the importance of copper to Zambia's economy, I visited several mines and recognized the need for all stakeholders to work together. I encourage government and the communities to continue to work to create the right conditions to attract additional investors in order to expand the sector and to ensure that people who have already invested heavily in Zambia can continue to do business successfully.
I value the relationship between our nations' armed forces and the role it plays in advancing regional peace and security. Since 2015, the U.S. government has provided peacekeeping training in support of the Zambian Defense Forces' participation in the United Nations Peacekeeping Operation in the Central African Republic. We proudly support the fifth Zambian battalion now preparing to deploy, thus continuing Zambia's immense contributions to peacekeeping efforts within the region.
Earlier this month, I swore in 70 new Peace Corps volunteers, augmenting the largest Peace Corps program in Africa. These are Americans, young and old, who voluntarily serve in local communities to help the Zambian people in agriculture, education, environment, health, and economic development. Since 1993, more than 1,700 American volunteers have served throughout the country, including in some of the remotest of Zambian villages.
As I write this, I am thankful for the substantial local press coverage of American partnership. At the same time, I encourage greater media freedoms in Zambia and more equitable treatment of the press across the board. During my interactions with the press, I have recognized the challenges many Zambian journalists face in their daily work. Throughout the year, the U.S. Embassy has supported reporters via journalism training and professional exchange programs to help them navigate these challenges.
I want to highlight that U.S. assistance comes at no financial cost to the Zambian people and does not saddle the government with excessive debts. We issue grants, not loans. This means Zambia does not have to repay the United States. We make such investments in order to strengthen Zambia's ability to achieve inclusive economic prosperity for all, and to protect, develop, and care for its most important resource—its people —as well as advance peace and security not only in Zambia but throughout the region.
It has been quite a busy year, indeed, with both happy and sad notes. I would like to thank the Zambian people for their sincere messages of condolence on the passing of former U.S. President George H.W. Bush. On behalf of my family and the U.S. Embassy team, I wish all Zambians a safe holiday season and look forward to a prosperous partnership in 2019.
[Read 1,962 times, 2 reads today]