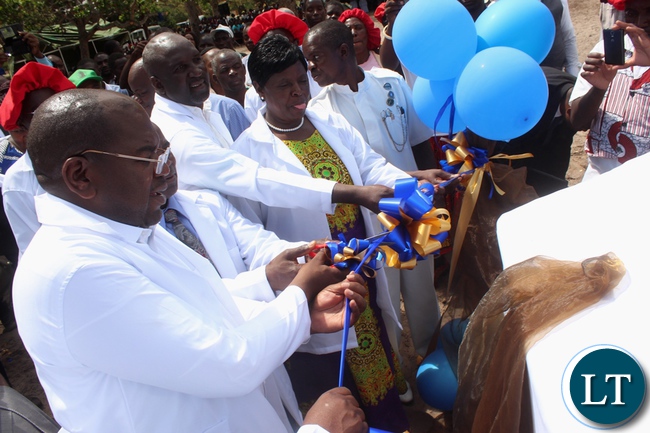 Government says it is committed in securing the health of people by developing health infrastructure countrywide.
Minister of Health Chitalu Chilufya says it for this reason that government through his ministry has constructed the mini first level hospital in Shiwang'andu Town.
The mini hospital will accommodate 40 beds, including services such as x-ray, theatre and maternity services, among others.
ZANIS reports the mini first level hospital project has a stipulated time frame of 68 months, adding that the health facility will also include houses for health workers.
In Muchinga Province, government has additionally constructed Hospitals in Isoka, Nakonde and Mpika districts, apart from constructing Health Posts in other districts in the Province.
The health infrastructure is part of government's construction programme of 108 min hospitals across the country.
The minister revealed this development when he officially opened the facility today.
And Dr. Chilufya has disclosed that , works on the stalled projects on the construction of Health posts in Muchinga Province will soon resume tomorrow Friday December 28 and that the workers with arrears from previous contractors will be settled when new contractors are engaged.
Meanwhile , government has handed over life serving modern ambulances to Mulanga Mission health facility and Kalalantekwe Clinic.
Dr. Chilufya also handed over the modern ambulances to the two health facilities yesterday which include Kalalantekwe and Mulanga mission hospital.
And Speaking earlier, Shiwang`andu Constituency Area Member of Parliament, Steven Kampyongo said he is delighted that his constituency will have a mini first level Hospital.
Mr. Kampyongo has since thanked President Edgar Lungu and the Ministry of Health for not leaving Shiwang`andu behind in health infrastructure development across the country.
The Area Member of Parliament also commended health workers in Shiwang`andu District for their hard working spirit.