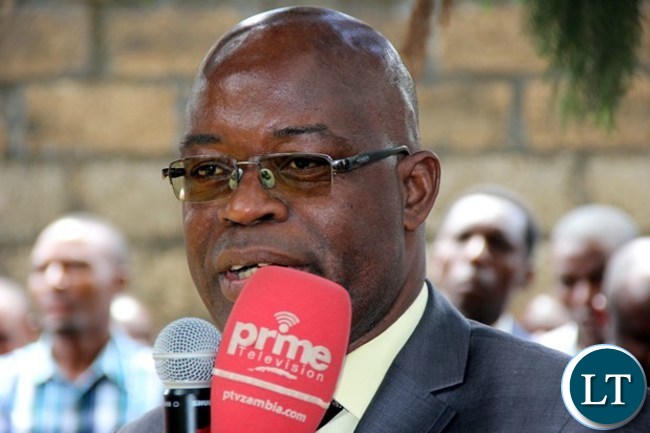 The United Party for National Development says the National Democratic Congress party is free to choose who should attend the Church Mother Bodies-led national dialogue slated for the 18th January, 2019.
UPND Chairperson for Information and Publicity Charles Kakoma says if the NDC wishes that its consultant Dr. Chishimba Kambwili should represent it, that should be respected since that is the party's choice and no one should stand in the way of the party's constitutional choice.
Mr. Kakoma says the UPND values the national dialogue and respects the decisions of other parties that will be represented by representatives of their choice including the NDC.
He said the debate therefore on who should attend the Church-led dialogue is not necessary as issues to be discussed affect all citizens irrespective of their status.
Mr. Kakoma said Zambians must set priorities right and avoid discussing issues that will not in any way foster peace and development in our nation.
He said Zambia must as a country must place the interest of the people first and this is why in the UPND we say Zambia and Zambians first.
According to Patriotic Front (PF) Deputy Media Director Antonio Mwanza , only political party presidents and their Secretary Generals have been invited by the Church and the Zambia Centre for Inter-Party Dialogue (ZCID) to attend the national political dialogue meeting slated for January 18, 2019,
Mr Mwanza said that it was, therefore, not possible for people with different positions in political parties to attend the meeting.
Mr Mwanza was reacting to sentiments by National Democratic Congress consultant Chishimba Kambwili that there will be no dialogue without him.
Mr Kambwili was quoted in some sections of the media saying he will forcibly attend as NDC consultant failure to which all opposition political parties will walk out of the meeting. Mr Kambwili is alleged to have made the remarks on Sunday.
"The national dialogue will not take place should the ZCID and PF succeed in eliminating me from the process,"Mr Kambwili is quoted in the publication.
Mr Kambwili alleged that the ZCID and PF are scared of him, hence alleged schemes to bar him from the process.
"With or without ZCID, I am attending that dialogue process under NDC as its consultant. And if they don't want, there will be no dialogue to talk about because all opposition political parties will walk out," Mr Kambwili charged.
But the PF said Mr Kambwili's assertions do not hold water because there is no such thing as party "consultant".
"What Mr Kambwili should know is that only party presidents and their respective Secretary Generals will be allowed to attend. Anyone else will not be party to the process. Consultants are not invited and proxies are not allowed. This is a serious meeting it's not manyengwe (playing). There is no place for drama, comedy and political immaturity," Mr Mwanza said.
Mr Mwanza advised Mr Kambwili, as a PF member of parliament, to communicate his concerns or contributions through the PF Copperbelt Chairman, His Worship, Cllr. Nathan Chanda to the party President, His Excellency Mr. Edgar Lungu on what will be discussed.
"It is up to the opposition presidents and their respective Secretary Generals to walk out in solidarity with the PF Roan MP or stay in the meeting and make progress. As for us, we will seat in there and discuss with the church mother bodies and whoever shall remain in the meeting," Mr Mwanza said.
[Read 2,137 times, 1 reads today]