Minister of Local Government Charles Banda yesterday led a team who conducted a sanitising exercise for flash mini buses and the entire millennium bus station.
Dr Banda who conducted the exercise in collaboration with management at the bus station said the exercise was meant to help combat the spread of the deadly coronavirus pandemic.
The Minister also commended management at the bus station and the proprietor of the flash buses and millennium bus station, for taking it upon themselves to safeguard the lives of citizens by spraying the entire area.
He explained that bus stations and markets are high meeting places and are vulnerable to disease outbreaks such as the COVID-19.
Dr Banda said it is desirable to keep the transport service running, hence the cleaning precautions of buses and terminals, in order to ensure that they are frequently disinfected.
The Minister also noted that the Ministry of Local Government through the Lusaka City Council (LCC) has also been disinfecting other bus stations in Lusaka city.
He added that all buses in all stations in the city must be thoroughly disinfected at the start of business as well as at the end of the business, to keep passengers safe.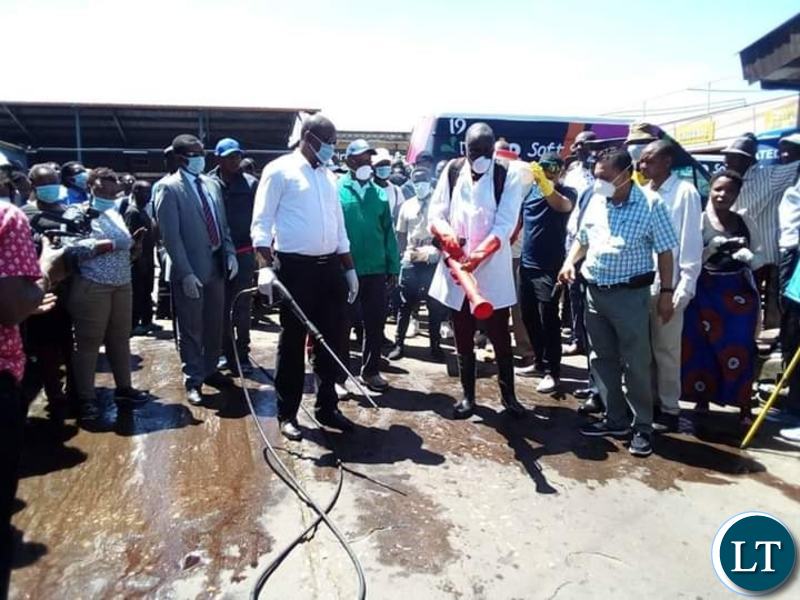 Dr Banda urged bus proprietors to ensure that buses receive additional cleaning material every time they return to the garage.
He further directed that in addition to increasing the frequency of the cleaning of buses, owners of the buses should distribute sanitising material to all their drivers.
Speaking at the same event, Millennium Bus Station Proprietor Ishmael Kankara called for concerted efforts from all stakeholders across the country, in order to combat the further spread of the coronavirus.
Mr Kankara said country needs to come together as one regardless of one's race or religion to combat the deadly virus which has affected the globe and urged everyone to take the pandemic very seriously
The Minister also toured Kulima Tower bus station where he was displeased to find that the station did not have wash basins and hand sanitiser at the entry points.
Dr Banda directed Kulima Tower bus station Manager Collins Mulenga to ensure that station has hand sanitiser and wash basins, at every entry point in the station.
And Mr Mulenga promised to adhere to the guidelines by health authorities, in order to ensure that the station remains safe for people conducting businesses, as well as passengers and bus drivers.