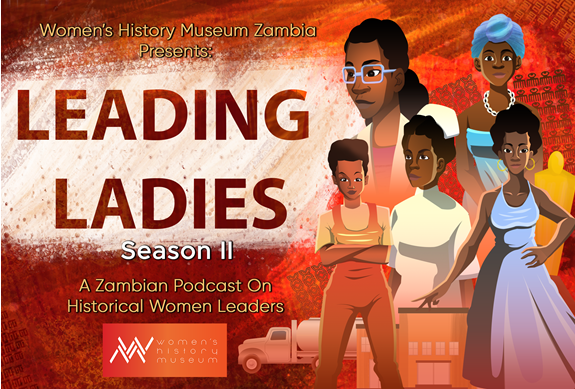 Google Podcasts x PRX on Wednesday 30th made the global announcement that Leading Ladies Zambia podcast would be part of a group of 20 podcasters from around the world that will participate in the Google Podcast Creator Program for 2020.
Thousands of creators from nearly 120 countries applied to this year's Google Podcasts
creator program. To make a hard decision even more difficult, this time we were only
looking for creators who had an existing podcast.
The quality of applications was off the charts, and we thank the team of people who were
up to the mighty task of reviewing them. Those reviewers included Google Podcasts
creator program alumni alongside representatives from PRX, Google, and a variety of
international podcast festivals, networks, and producers.
The selected teams will participate in 12 weeks of free, virtual training conducted by PRX
alongside international industry experts. During that time they'll get regular feedback on
all aspects of their production; work on storytelling, sound design, marketing, and more;
equipment and software to help meet independent production needs amid the COVID-19
pandemic; and $12,000 in funding.
Launched in 2018, the Google Podcast creator program aims to provide podcasters everywhere with open resources, to empower underrepresented voices, and to showcase new work. This year, PRX and Google will welcome 20 production teams from 11 countries representing existing podcasts produced in six languages, with content rooted in personal storytelling, audio drama, humor, journalism, intergenerational identity, food, literature, the power of imagination, and beyond.
The Google Podcasts creator program will provide a space for producers to advance their skills and take their productions to the next level. Creators will receive regular feedback on their production; training in areas such as storytelling, sound design, and marketing; equipment and software to help meet independent production needs; and up to $12,000 in funding for use as they see fit. Creators will convene virtually among three 12-week cohorts: October to December 2020, January to April 2021, and May to July 2021.
The Women's History Museum of Zambia are the producers of Leading Ladies Zambia podcast.The purpose of this content is to tell the obscured and often hidden stories of Zambian women who have held significant positions of leadership. The second season of the series was launched on the 16th of September 2020 and presents more contemporary accounts of Zambian Leading Ladies – the characters include, a scientist, a truck driver, a racial justice advocate, a justice seeker, a health care advocate and many more. This season followed the success of the debut season which featured women from the pre-colonial era who made important but largely untold contributions to Zambia's history.
"We are so proud to represent Africa and Zambia along with Nigeria, the only other African
country selected in Africa to be part of this great program, and we trust it will give us the
platform to launch the work with Leading Ladies even further," said Producer of the podcast
and co-founder of the Museum, Samba Yonga.