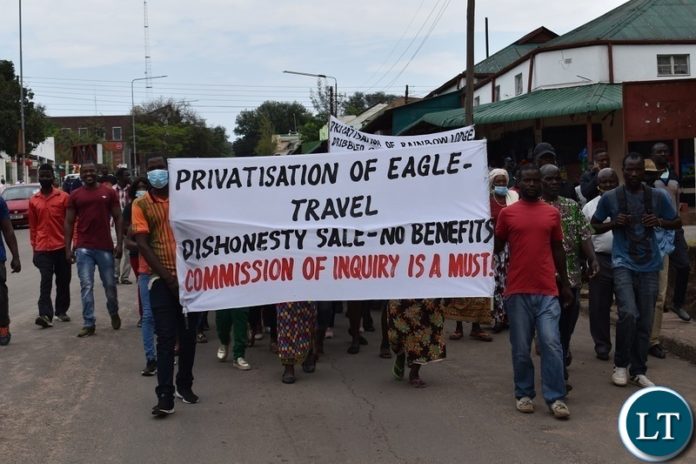 FORMER Mosi-Oa-Tunya International Hotel and Eagles Travels employees in Livingstone have matched to the Livingston District Cabinet office to present a petition in solidarity with those calling for a Commission of Inquiry into the privatization of National process.
The former Employees who were seen by Smart Eagles Matching side by side with their children and various dependents of theirs on the streets of Livingston, say that it is only prudent that the Privatization process is probed to the later.
The former employees recounted how the privatization process that was dubiously handled by opposition UPND owner and five times presidential election looser Hakainde Hichilema left them devastated and distraught
They appealed to President Edgar Chagwa Lungu to expedite the process of setting up a commission of inquiry so as to enable them have some closure when the culprits are identified and brought to book.
The Demonstrators said that Hakainde Hichilema should clearly account for his wealth and highlight Zambians on his role and participation of National assets during the MMD government which left them in anguish.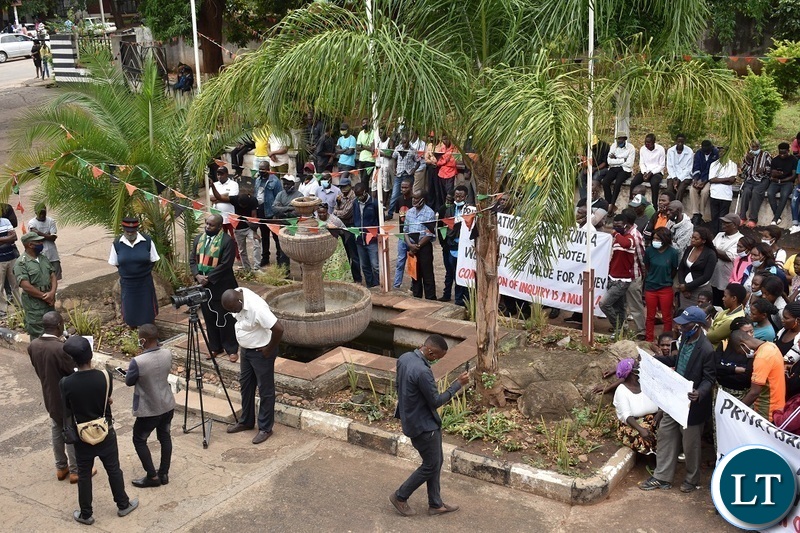 Meanwhile, the Advocates for National Development and Democracy (ANDD) has called on President Edgar Lungu to accelerate the process of setting up a commission of enquiry into privatization.
Organization President Samuel Banda tells Smart Eagles via telephone that there is growing anxiety amongst the citizenry demanding for answers.
Mr. Banda insists that the people of Zambia want to understand how things went wrong during the privatization process.
"We are elated with the fact that President Edgar Chagwa Lungu has heeded our call to set up a commission of inquiry into privatization and the sale of national assets. It is long overdue and demonstrates that the head of state has a listening ear for the people," he said.
"We cannot understate the importance of a commission as the effects of privatization are still being felt today. The commission will ensure that people are made accountable, and pave way for the appropriate agencies to prosecute wrongdoers."
He indicated that this is very important for the closure of a very bad chapter in the country's history.
Mr. Banda said too many people suffered and are still struggling today.
He contended that this is the more reason why his organization is calling on President Lungu to expedite the process of setting up this important commission of inquiry into privatization.