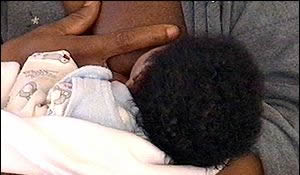 Milk and milk products from China were banned Thursday in several parts of the world,including India, following reports of thousands of kids and baby animals taking ill after their consumption.
The ban against the cheap Chinese milk and its products came after contents of melamine, used for making plastics and fertiliser, as also used as whitener, was found in infant milk and other dairy products of several Chinese companies.
India, the world's largest milk producer, Thursday banned import of dairy products from China to ward off threat of the contaminated whitener which has killed four infants and made several thousands ill in the neighbouring country.
The United Nations children's agency U.N.I.C.E.F. minced no words in condemning the Chinese dairies saying it was unacceptable to deceive the public on health issues.  U.N.I.C.E.F. in a statement issued on Wednesday said it had "observed with great sadness and concern the unfolding story of tainted infant formula produced by Chinese companies.However, this scandal that has caused 53,000 babies to fall ill after drinking contaminated milk could boost the popularity of breastfeeding," an AP report from Beijing said quoting Dale Rutstein, a Beijing-based spokesman for U.N.I.C.E.F.
The other countries which banned the Chinese milk and their products include Indonesia, France, the EU nations, Nepal, Bhutan, South Africa and Australia.
[Read 12 times, 1 reads today]