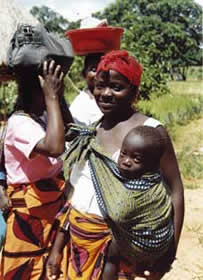 United Nations Population Fund (UNFPA) Country Representative, Duah Owusu-Sarfo has attributed high maternal complications among communities in rural areas to lack of information on sexual reproductive health matters.
Mr Owusu-Sarfo said there was need for intensive awareness sensitization in the communities on sexual reproductive matters.
He said if communities both females and males were equipped with knowledge on safe motherhood programmes such maternal complications and deaths could be prevented.
Mr Owusu-Sarfo who is on familiarization tour of North-Western province said this when he paid a courtesy call on Senior Chief Mujimanzovu of the Kaonde people in Solwezi yesterday.
He told the chief that UNFPA would embark on sexual reproductive health programmes and other related programmes in his chiefdom to sensitize the communities.
Senior chief Mujimanzovu was highly elated and assured the UNFPA chief that he would always work with the organization saying issues of sexual reproductive health and family planning were very critical in his chiefdom.
He said it was saddening to note that all girls in his chiefdom who sat for grade nine last year got pregnant.
The chief said parents in his chiefdom need a lot of sensitization because they are fond of marrying off their school going children at tender age thereby denying them education and exposing them to maternal complications as most of them are too young to handle pregnancies.
ZANIS/WN/MKM/ENDS