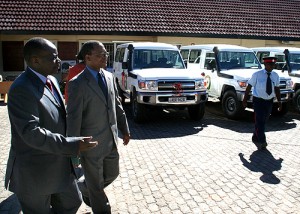 The donors' Joint Financing Arrangement (JFA) yesterday handed over 14 vehicles bought at the cost of K4.6 billion to National HIV/AIDS/STI/TB Council (NAC).
And government says the HIV/AIDS epidemic has for a long time remained a challenge that could escalate and weaken the national economy if not properly addressed.
Speaking when he received the donation on half of NAC, Minister of Health Kapembwa Simbao said government will therefore ensure that it partners with the donor community to enhance service delivery in HIV/AIDS programmes.
Mr. Simbao said the vehicles will help health care providers to improve their coordination of work and assist the less privileged in communities.
He added that the gesture from JFA was a clear sign of the commitment which cooperating partners have for government's development efforts, which includes the national response to HIV and AIDS.
He explained that despite the global economic crisis, there was need for other stakeholders to work closely with government and put in place measures that would reduce the wide spread of the epidemic.
Mr. Simbao noted that through having improved means of transport, care givers and their peer educators would be able to reach out to the remotest parts of the districts in sensitizing people against the pandemic.
The Minster said the vehicles would also assist Districts AIDS Task Force (DATF) in their respective monitoring and evaluation work intervention.
Mr. Simbao further expressed happiness that all the 72 districts have been covered with operation vehicles, adding that the vehicles would help in strengthening the decentralized multi sectoral HIV/AIDS response through out the country.
He thanked the donors for the donation and urged the beneficiaries not to misuse them but ensure that they saved the intended purpose of reaching out to people in different areas.
Nine of the 14 vehicles will be deployed to districts around the country while the five would be used by the national secretariat in Lusaka.
And JFA leader, Bill Nolan, said transport plays a vital role in the implementation of health related programmes in the country.
Mr. Nolan, who is also Irish Ambassador to Zambia, noted that HIV/AIDS was one of the diseases that have caught donors' attention because of its devastating results to both government and its people.
Mr. Nolan has also affirmed continued donor support to the Zambian government in the fight against HIV/AIDS.
ZANIS