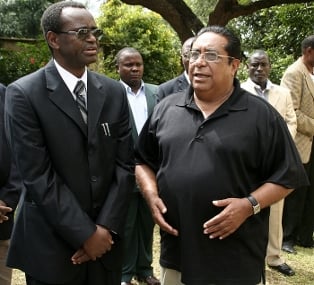 Vice President, George Kunda, says government is saddened by the sudden death of Lands Deputy Minister, Nasim Hamir.
Kunda said when joined other mourners at the funeral house to pay his last respect to the late deputy minister that President Rupiah Banda had also learnt the death of Mr. Hamir with deep sorrow.
Mr. Kunda said Mr. Hamir, who was also area Member of Parliament for Chitambo Constituency in Serenje, would be missed for his commitment to both party and national duties.
Mr Kunda described the late Hamir as an articulate leader, who held the concerns of the people he represented to heart.
Mr. Kunda, however, apologized to the nation for not according the late Deputy Minister an official funeral saying religious dictates that Mr. Hamir was entitled to needed to be followed.
Notables among the mourners that went to pay their last respect to the late Hamir were Lands Minister, Peter Daka, Agriculture Minister, Brian Chituwo, Local Government and Housing Deputy Minister, Crispin Musosha and Patriotic Front Malole Member of Parliament, Emmanuel Munaile.
Mr. Hamir, 44, who died of a heart attack in the University Teaching Hospital, UTH, yesterday, is survived by two wives, one child.
Mr. Hamir was born in Chitambo, in Serenje District were he was elected as MP in 2006 before being appointed as Deputy Lands Minister by the late President Levy Mwanawasa in 2007.
He was later reappointed by President Banda in 2008 to serve in the same capacity.
Meanwhile, Lands Minister Peter Daka said the ministry had lost a hard working leader who contributed greatly to administrative matters aimed at improving its operations.
And Malole MP Emmanuel Munaile said Mr. Hamir would be missed for his willingness to work with anyone when it came to solving issues of national interest.
The remains of the late Hamir, were scheduled to be buried at the Leopards Hill Cemetry this afternoon.
ZANIS
[Read 32 times, 1 reads today]