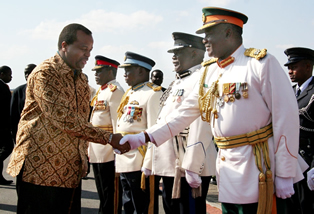 PRESIDENT Banda says Zambia will benefit from King Mswati's vast experience and connections to international investors.
Mr Banda said in Solwezi that King Mswati III of Swaziland has been on the throne for a long time and would use his connections to lure international investors to invest in Zambia's tourism and agriculture sectors.
Speaking after a conducted tour of Kansanshi Mine yesterday, President Banda said King Mswati would use his clout to convince big investors who have developed the tourism and sugar industry in his Kingdom to come to Zambia.
"Swaziland is more advanced in the tourism and sugar industry and we are hoping that we can use his clout to attract major investors in the country," President Banda said.
"His Majesty has been on the throne for a long time and he has a lot of connections with major investors in the world. I am very sure that we will benefit from this as well," President Banda said.
Mr Banda said King Mswati's visit was stimulating and was sure that Zambia would benefit from it.
King Mswati said the main purpose of his visit was to look at investment opportunities in the country.
"We are here to look at investment opportunities and we are happy that the people of this province have been very generous to offer me land which we can come and look at. His Excellency (Mr Banda) supports that idea," he said.
King Mswati said he will go back to Swaziland to decide on what kind of investment he will put up in the province.
He said there was need to encourage trade between the two countries.
The King said he hoped his investment in Zambia would spur further investment in both countries by the private sector.
King Mswati said he was impressed with the mining activities and the safety measures Kansanshi Mine has put in place.
"I am impressed to see the mine and the level of safety measures that management is concerned with the safety of the people," King Mswati said.
He said mining at Kansanshi will improve the standards of living of the local people and the economy of the country.
He said he was also happy that the Kansanshi Mine management was taking care of disabled people in the community.
King Mswati said, however, that there was a lot that the mine could still do to improve the community.
The King said he was happy that the mine was not only employing men, but women too.
"We only assumed that these kinds of machines can only be run by men but the company has proved that anything is possible whether it's a man or a woman," he said.
King Mswati and President Banda's entourage was shown a huge dump truck driven by a woman offloading copper ore at the crusher.
The two leaders also had a closed door meeting with the mine management.
Minister of Finance and National Planning, Dr Situmbeko Musokotwane, Minister of Local Government and Housing Benny Tetamashimba and Presidential Affairs Minister Ronald Mukuma accompanied the two leaders.
Swaziland Foreign Affairs and International Co-operation minister Lutfo Dlamini and Prince Ncanawa of Swaziland were also in the entourage.
[Zambia Daily Mail]