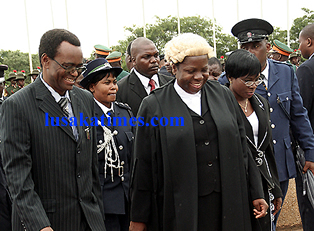 Vice President, George Kunda, has presented the
constitution amendment bill to parliament.
The bill which is intended to change the National budget cycle went through first reading in the house on Wednesday.
Deputy Speaker, Mutale Nalumango, referred the bill to the committee on legal affairs for consideration.
Mrs. Nalumgango also directed that a report be submitted to the house on August 5, for further consideration.
At his last press conference, President Rupiah Banda, announced government's decision to amend the national budget cycle.
This means that the financial year will now run from first January to 31 december to give government enough time to implement its programmes.
Previously the financial year ran from April 1.
Under the new arrangement the national budget will be presented to parliament by December.