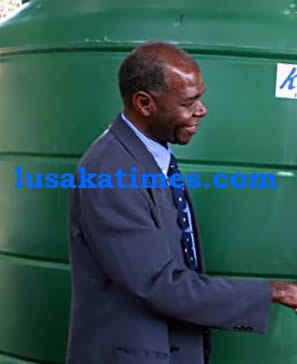 Kanyama Member of Parliament (MP) Gerry Chanda says he is ready to be dragged to court by the former UNZASU Secretary General Stanford Kabwata, who quarried him on why he refused to represent his constituency on the National Constitutional Commission (NCC).
Colonel Chanda said he would not hesitate to respond should the former University of Zambia Students Union official proceeds with his plan to petition him through the National Assembly for not representing him at the NCC.
He told ZANIS in Lusaka today that he could not participate in the NCC because he did not want to go against his party rules and campaign promises.
He stressed that he belong to a political party that has rules and regulations to follow saying attending the NCC will be a violation of the party rules.
Colonel Chanda said he will as at now not respond to the letter from Mr. Kabwata, which is asking him to explain why he has chosen not to represent him at the NCC.
He said he was too busy with addressing problems in his constituency and he would therefore not respond to Mr. Kabwata's query.
The MP noted that people in his area elected him because he promised to concentrate on developmental issues saying aligning himself with the NCC would be a betrayal to his electorates.
He has since advised Mr. Kabwata to proceed with his plans to petition him through the National Assembly or take him to court.
On Wednesday, two former UNZASU officials gave Colonel Chanda and his Munali counterpart Mumbi Phiri a three day ultimatum in which to explain to them why the duo chose not to represent them at the NCC.
Antonio Mwanza, a former UNZASU President and his former Secretary General Stanford Kabwata wrote to the two MPs demanding for a legal explanation saying the move by the MPs is an infringement of their rights and contrary to article 133 (b) of the Zambian constitution.
Efforts to get Munali MP Mrs. Phiri proved futile by press time.
ZANIS
[Read 1 times, 1 reads today]