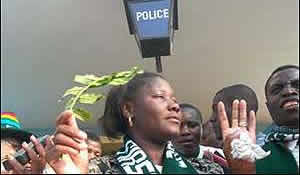 Women in Law and Development in Africa (WiLDAF) and Women and Law in Southern Africa (WLSA) have joined other Organisations and Individuals in condemning Lusaka Province MMD Youths for their utterances against FDD president Edith Nawakwi.
The two women groups registered their displeasure over the statement in a joint statement made available to ZANIS in Lusaka today and signed by WiLDAF Regional Chairperson Gladys Mutukwa and WLSA Regional Coordinator Matrine Chuulu.
The organizations observed that the utterances by MMD Lusaka Youth Chairman Chris Chalwe on Sunday to gang rape Ms. Nawakwi underscores the impunity with which women's rights have been violated without due protection from government.
They said their organizations noted with deep regret that since Sunday no leader both in government and the MMD has condemned the insulting statement.
She said Mr. Chalwe's intentions against Ms. Nawakwi are a grave insult to the dignity of Zambian women and should render him and his gang open to police probe.
"We wish to remind Mr. Chalwe and his gang that gang rape is not only inhuman but constitutes one of the worst forms of violence against women." The statement said in part.
They noted that the impunity with which the statement was made should remind Zambians of the daily silent suffering of thousands if not millions of women at the hands of perpetrators of violence against women.
They have since called on the police to take appropriate action against Mr. Chalwe for threatening violence.
The women organizations further called on the MMD leadership, religious leaders, political party leaders and the Zambian society at large to take a definitive stand on violence against women in Zambia.
ZANIS