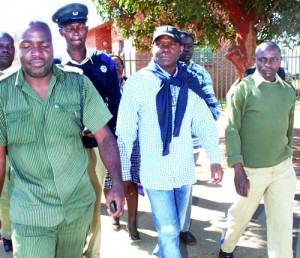 Post Newspapers Editor-in-Chief Fred M'membe who was this morning sentenced to four months imprisonment with hard labour has been taken to Lusaka Central Prison to begin serving his prison sentence.
His lawyers George Chisanga and Remmy Mainza struggled to get him out on bail pending appeal to the High Court. According to information received, Magistrate David Simusamba who is supposed to sign the bail has disappeared, leaving prison officers without an option but to send Mr. M'membe to Prison.
Mr. M'membe has been sentenced to four months imprisonment with hard labour after being found guilty of contempt of court together with the Post Newspapers by Magistrate Simusamba.
Mr M'membe has also been sentenced to four months simple imprisonment on behalf of the Post Newspapers, after Magistrate David Simusamba set free Post Human Resources Director Rueben Phiri who was standing in for the Newspaper.
Passing sentence this morning, Magistrate Simusamba said Phiri could not be the right person to suffer for the Post. He said the sentences will run concurrently meaning Mr M'membe will only serve a four months jail term.
Magistrate Simusamba said the sentence is meant to reform Mr M'membe as well as to deter would be offenders.
QFM
[Read 15 times, 1 reads today]