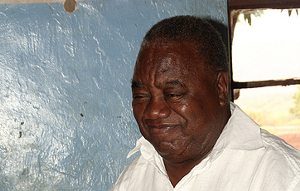 PRESIDENT Rupiah Banda has warned Government officials and the beneficiaries of the various empowerment funds to strictly use and account for the money as requested and approved.
And President Banda has cautioned farmers against selling their maize to briefcase traders who are buying the produce at low prices.
Mr Banda strongly warned and urged Government officials and the beneficiaries of the Constituency Youth Development Fund (CYDF) and the Citizens Economic Empowerment funds to strictly use and account for the money as requested and approved for.
He said the Government through the Citizens Economic Empowerment Commission (CEEC) had disbursed funds to each province hence the need for officials and the beneficiaries to strictly use and account for the money accordingly.
President Banda said this in Monze yesterday in a speech read for him by Local Government and Housing Minister Eustarckio Kazonga during the 15th Lwiindi Gonde traditional ceremony of the Tonga people of Southern Province.
The empowerment funds were targeted at empowering youths, women, people living with HIV/AIDS, the physically challenged and citizens who had been historically marginalised and disadvantaged.
Currently, Southern Province has 27 business persons that have benefited from the empowerment fund.
President Banda also warned farmers over the ongoing crop marketing especially maize which was Zambia's staple food.
"People should sell the maize and reserve for the consumption and desist from selling to briefcase businessmen and women at lower price who in turn even export the maize and create food shortage," Mr Banda said.
In Southern Province, Government disbursed 155,888 bags of fertiliser and 139,115 bags of 10 kilogramme seeds in Monze last year in which 320 households benefited in the District.
President Banda also said the Government was in the process of resuming cattle restocking programme which was stopped due to the Contagious Bovine Pleura-pneumonia (CBPP), a livestock disease.
Southern Province Minister Daniel Munkombwe was happy that there was unity and peace at the ceremony.
"We need to remove political tags at such important ceremonies so that people appreciate them," he said.
Speaking earlier, paramount Chief Monze urged the police service to allow many people attend the ceremony which ends today.
Chief Monze noted that some people were scared to attend the ceremony due to the heavy presence of the police.
Lwiindi Gonde traditional ceremony patron Hakainde Hichilema said there was need to promote unity amidst different tribes and languages in Zambia.
Mr Hichilema said Lwiindi Gonde traditional ceremony was all about celebrating culture and heritage and that the ceremony focused to celebrate ancestors who helped to have good rains and harvest.
Lwiindi Gonde ceremony Organising committee chairperson Rex Natala urged the Government to recognise Chief Monze as paramount chief.
Mr Natala said Chief Monze was recognised and gazetted in 1929 as a paramount chief.
[Read 13 times, 1 reads today]