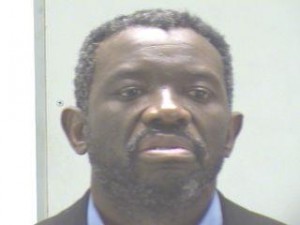 By JENNIFER EMILY / The Dallas Morning News
[email protected]
Carolyn Hudson barely knew Nathaniel Tumbwe so she repeatedly spurned his advances and marriage proposals that seemed to her more like a plea for sex than real commitment.  But Tumbwe, 47, stopped taking no for an answer in October 2008, Hudson testified Tuesday. She said he raped her on the black futon in the TV room of her Cedar Hill home.
It wasn't until weeks later that Hudson, who had already reported the assault to police, learned that Tumbwe had advanced AIDS and had exposed her to the virus because he did not wear a condom.
Hudson said that when police told her about Tumbwe's AIDS status and medical condition, including that he had herpes and genital warts, she began to worry about other women he could have exposed to the deadly disease.
"I couldn't do anything about it," Hudson said about her own exposure, clutching a tissue as she testified during Tumbwe's trial. "I had to put my faith in God."
Tumbwe is charged with aggravated assault with a deadly weapon. Prosecutors allege the deadly weapon was his penis and bodily fluids that contained the HIV virus. He faces up to 20 years in prison, if convicted.
Prosecutors Josh Healy and Kate Pfeifle say there is no doubt about the guilt of Tumbwe, whose body visibly shook throughout Tuesday's testimony. But his defense attorneys, Michael Levine and Omar Nawaz, contend that prosecutors "concocted" the charge against their client because Hudson now regrets having a relationship with him.
The Dallas Morning News does not typically identify possible victims of sex crimes but Hudson, a 60-year-old receptionist, wanted her name to appear.
So far, Hudson has not tested positive for HIV, but she must be tested once a year for 10 years. According to testimony, there is up to a 10 percent chance of passing HIV during unprotected vaginal sex between a man and woman.
Two women who did contract the virus after having sex with Tumbwe would likely testify against him during the punishment phase of the trial, if he is convicted.
Tumbwe was diagnosed with HIV in 1996 in Dallas. According to testimony, he did not take his medication and frequently missed doctor's appointments.
Hudson met Tumbwe because both were elders at the Potter's House, the megachurch in southwestern Dallas. Hudson is still an elder there, and she and Tumbwe would sometimes get together to discuss and debate religion at a bookstore.
Tumbwe, who calls himself a reverend, prince and a doctor, is from Zambia. Hudson said he told her he was going to run for "king or president" of the country and wanted her to return there with him.
She said she twice invited him to her home for discussions about religion and a ministry Tumbwe said he wanted to begin. Hudson testified that Tumbwe raped her on the second visit.
Hudson testified that on that same night Tumbwe tried to use the Bible to justify premarital sex. Hudson said she had been celibate in the 12 years since her divorce and repeatedly refused his requests to sleep with him.
Hudson said that although Tumbwe repeatedly told her: "give it to me, give it to me," she said she told him no as many as 40 times.
Hudson said that Tumbwe told her that, "We both sinned in our hearts." But she responded, " 'You sinned; I did not.' "
Hudson said that when he began to force her to have intercourse, she did not fight him. She was worried about her health because she has had multiple strokes and has a congenital heart defect that required open heart surgery when she was 12.
"He basically ripped me open," Hudson said. "I just wanted it over."
The trial is scheduled to resume this morning with Hudson on the witness stand.
[The Dallas Morning News]