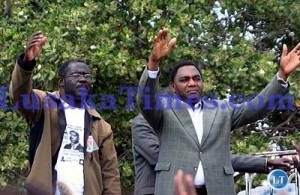 Namwala Member of Parliament (MP) Robbie Chizyuka has advised United Party for National Development (UPND) president, Hakainde Hichilema, to accept that he will never rule Zambia.
Major Chizyuka said the recent by-election defeat in Luena to the Alliance for Democracy and Development (ADD) is a clear indication that Mr. Hichilema has limited support in the country.
He said it is quite surprising that the UPND president has been boasting that he controls the western province when in fact not.
The Namwala MP said the only province that the UPND could boast of having support is southern province, and a bit of North western province.
Major Chizyuka said Mr Hichilema's hopes for the presidency are a bridge too far, adding that the sooner he realizes it the better.
He added that in the history of Zambia, no candidate has won the presidency with support from one province.
Major Chizyuka noted that the only hope for the UPND president is to become vice president to Patriotic Front (PF) leader Michael Sata.
He, however, observed that the PF is making inroads in the UPND strongholds.
[ QFM ]