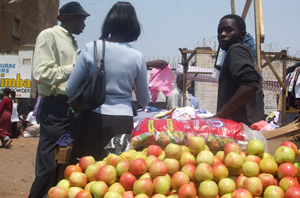 The Lusaka City Council (LCC) says the removal of street vendors from streets in the city of Lusaka has continued to remain a challenge.
Council Public Relations Manager Chanda Makanta said there has not been any corporation from the vendors who have continued to return and trade from the streets.
Ms Makanta explained to ZANIS in an interview in Lusaka today that members of the public were also encouraging the venders to trade on the streets by buying from them.
She said if the general public was not encouraging them, street vendors would not see the reason of trading from the streets but would instead utilize markets that the council has built for them.
Ms Makanta also wondered why despite the local authority sensitizing members of the public not to buy from street vendors, most of them continue to do so.
She said this has made people think that the LCC has failed to remove the vendors from the streets when the fact was the opposite.
Ms Makanta further said the council was committed to removing street vendors and to make the city look clean and beautiful.
She said this was why the council has built markets for traders to operate from instead of doing business on streets.
Ms Makanta added that traders needed to understand that the building of markets by the council was done for them.
The Lusaka City Council has in the past been struggling to remove street vendors as most of them have continued to go back to trade on streets.