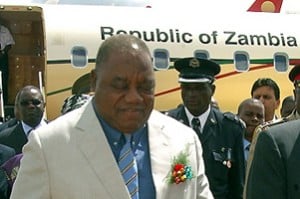 President Rupiah Banda is next week expected in Namwala district, Southern Province where he is scheduled to inspect several developmental projects before holding a public meeting on Wednesday.
President Banda is expected to make a night stop In Itezhi-tezhi district on Tuesday next week 24 enroute to Namwala district.
This is according to a programme issued by Southern Province Permanent Secretary Gladys Kristafor to Itezhi-tezhi District Commissioner Mary Mukwiza and availed to ZANIS in Itezhi Tezhi today.
The President will land at Itezhi-tezhi uphill football ground by helicopter and then spend a night at the Presidential Guest house in Itezhi-tezhi.
While in Itezhi tezhi, he will meet District Executive Committee and Constituency committee officials in the morning before leaving for Namwala.
The President will depart Itezhi-tezhi for Namwala by Helicopter about 9:00 hours.
In Namwla, President Banda is expected to meet all chiefs and headmen from Itezhi-tezhi and Namwala before addressing a public rally in the afternoon.
The president will depart Namwala for Lusaka at 17 hours.
[ ZANIS ]