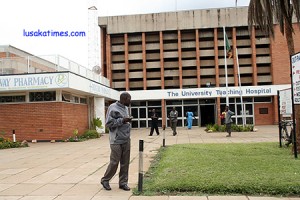 ACTING Health Minister Brian Chituwo has said the upgrading of five clinics in Lusaka into mini hospitals and the construction of Lusaka District Hospital, are among the intermediate measures Government has undertaken to address congestion at the University Teaching Hospital (UTH).
Speaking in Lusaka yesterday when he toured UTH to check on progress and challenges the institution was facing, Dr Chituwo said the Government was committed to ensuring that quality health care delivery was maintained at the country's highest referral hospital.
"The upgrading of five clinics in Lusaka into mini hospitals would drastically reduce congestion at UTH because we will have specialists offering quality health care to people as close to their homes as possible. This will mean we will see the number of patients flocking to UTH, reduce," he said.
Dr Chituwo said the hospital had a mandate to offer health care to all patients in need, and that even when the hospital was filled to capacity, they could not turn away patients.
He said media reports that UTH was heavily congested could not be denied, but was quick to mention that congestion at places such as the Filter Clinic, was only a temporary measure, as patients were quickly evacuated to other wards for admissions, within a space of 24 hours.
He said the Filter Clinic seemed congested because that was where patients in need of emergency care were attended to and once stabilised, they were evacuated to other wards.
Dr Chituwo, who is also Science and Technology Minister, said Government was also in the process of re-opening some of the closed nursing training institutions and that Government had plans of establishing another school of medicine in order to address the shortages of staffing levels in the health sector.
Meanwhile, Dr Chituwo was elated to find that hospital equipment worth billions of dollars were being properly utilised at the hospital.
He was referring to diagnostic machines such as magnetic resonance imaging (MRI) and the computerised tomography (CT) scanning equipment.
And Dr Chituwo maintained that government would not reverse its decision on the procurement of mobile hospitals.
He said the procurement of the mobile hospitals had reached an advanced stage.
[Times of Zambia]