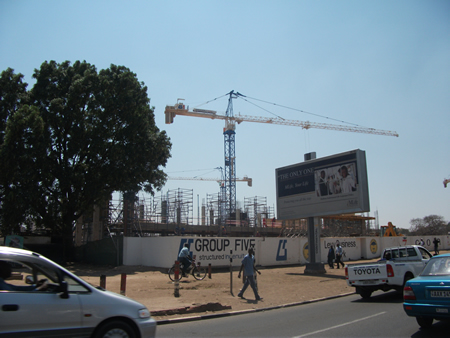 THE Zambia Congress of Trade Unions (ZCTU) has said assertions by United Party for National Development (UPND) leader Hakainde Hichilema that Zambia lacks economic and social development are mere political statements meant to mislead the people.
And economist Oliver Saasa has said the assertions by Mr Hichilema are a political statement because the country has recorded substantial improvement in economic and social sectors.
ZCTU president Leonard Hikaumba said in an interview yesterday that it was misleading for anybody to suggest there was no development when infrastructure in sectors such as roads, education and health were being developed countrywide.
Mr Hikaumba said blanket statements that condemned everything the Government was doing were not healthy for the development of the country.
"It is not true there is no development, that is an understatement because there is development in almost all the sectors of the economy," he said.
Mr Hikaumba said politicians, in spite of their party affiliations, should provide practical solutions to the problems the country was facing because citizens needed improved living standards regardless of who was in power.
And Professor Saasa said there was need to appreciate what was being done to develop the country unlike condemning every effort being made.
"We have seen a number of schools and health institutions being constructed countrywide," he said.
Prof Saasa said the private sector should rise to the occasion and respond to the economic development taking place.
"The Sixth National Development Plan is under way, therefore economic players should take advantage of it," he said.
He said the private sector and individuals should also make use of the development programmes such as the Citizens Economic Empowerment Fund to venture into businesses and improve living standards.
Prof Saasa said the Government had continued to provide a platform which the private sector should take advantage of, adding there was need for the people of Zambia to make use of the conducive environment so far created to generate business activities.
Meanwhile, the MMD has said the International Monetory Fund (IMF) has shamed Government critics by acknowledging the economic growth that the country has achieved.
MMD acting national secretary Chembe Nyangu said this in reaction to IMF's statement that Zambia's economy was performing well, with the Gross Domestic Product projected at 6.6 per cent this year.
Mr Nyangu said it was surprising it had to take outsiders to acknowledge the economic growth when some Zambians were criticising the Government that it was not doing anything.
He said some critics, especially opposition leaders, had deliberately chosen to ignore what the Government had achieved because it was an open secret that a lot of things had been achieved.
President Banda this week commissioned a K10.8 billion Magnetic Resonance Imaging (MRI) and Computerised Tomography (CT) scans at the Cancer Diseases Hospital in Lusaka.
And last week, secretary to the Treasury Likolo Ndalamei revealed that the country's economy was expected to grow by 6.6 per cent a revision from the earlier projection of five per cent.
[Times of Zambia]