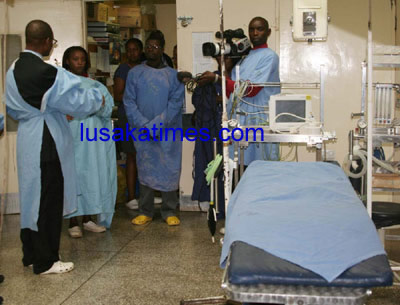 President Rupiah Banda is wednesday expected to officially launch the newly established Renal Unit at the University Teaching Hospital UTH
The President will also commission ten brand new Dialysis machines as part of his health care programme.The Renal Unit has been refurbished at a cost of over 3.5 billion Kwacha.
The ten dialysis Machines have been bought from Japan as part of President Banda's wider health campaign programme aimed at delivering quality health care to Zambians.The machines will help cut government costs as most patients with renal problems were sent abroad for treatment.
The President said he is happy to deliver another achievement in the country's health sector, barely a month after he launched the country's first-ever CT scan Machine, which was installed at the Cancer Diseases Hospital in Lusaka.
This is according to a statement issued to ZNBC News by Special Assistant to the President Dickson Jere
It is the first time since Independence that Zambia has managed to acquire ten dialysis machines to help patients with renal problems.
The Machines have been procured through the assistance of the Tokushikai Medical Centre of Japan.
A Zambian medical team, comprising a Doctor, Nurse and Technicians, was recently trained in Japan to handle the newly acquired equipment.
[ZNBC]