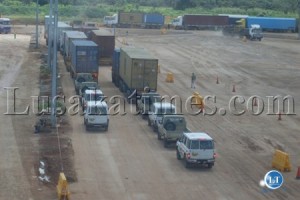 President Banda on March 4 commissioned the US$25 million modern Kasumbalesa border facility.
The Kasumbalesa border post becomes the first project to be commissioned under the Public Private Partnership (PPP) initiative.
Mr Banda said during the commissioning ceremony on March 4 that government recognises the role of the private sector as a partner in infrastructure development.
"The private sector in partnership with Government can achieve a lot in terms of the development of infrastructure and hence national development," Mr Banda said.
He said the participation of the private sector in infrastructure development releases Government resources for other priority areas like health and education.
"I want us Zambians to adopt and assimilate public private partnerships as critical in the future development of our country. This new business approach will increase efficiency in construction and maintenance of infrastructure services in Zambia," Mr Banda said.
He said Government expects that the local community will benefit from new jobs and improved social amenities like roads, a market and schools at Kasumbalesa.
Mr Banda said Government is working to upgrade all major border posts like Kazungula, Nakonde, including Mwami, Kipushi and Jimbe through the PPP approach.
He was confident that Kasumbalesa border and others to be modernised will increase the volume of trade in the SADC and COMESA regions and beyond.
"The challenge is for all local authorities to be involved in the planning and implementation of the various PPP projects being implemented in their jurisdictions. Councils must ensure that their communities are fully involved and benefit from the projects," Mr Banda said.
He said it is necessary for Zambia to improve its border post management to enhance passage and transparency
Mr Banda also congratulated the Zambia Border Crossing Company for the project and for employing local people at Kasumbalesa.
Mr Banda said Government recognises the necessity to mordernise all border posts because having only one modern border at Chirundu is not sufficient for the rapid clearance of cargo carriers.
He is concerned that the trucks which may be quickly cleared at Chirundu border post get marooned at other unimproved border posts such as Kasumbalesa.
"My Government understands that in order to successfully implement the operations of the ultra modern Chirundu border post, it is important to modernise other posts as well," Mr Banda said.
He said this is the reason why the Kasumbalesa border post has been built and Government wishes to see the facility evolve into a one-stop border post in line with the set Southern African Development Community (SADC) standards.
[Zambia Daily Mail]