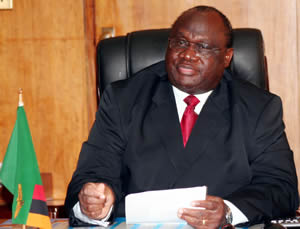 MINISTER of Communications and Transport Geoffrey Lungwangwa has announced that the Government has suspended the revoking of a Statutory Instrument that compels Public Service Vehicles (PSV) operators to maintain a stipulated colour code for their vehicles.
According to Zambia National Broadcasting Services (ZNBC) main news bulletin monitored last night, Professor Lungwangwa said in Lusaka that the suspension of the statutory instrument followed numerous concerns from members of the public and would hold consultations with various key stakeholders.
The minister had on Friday announced the abolition of regulation 14A of statutory instrument no 115 of 2000, which compelled public service vehicles operators to paint their vehicles in sky blue colour.
The statutory instrument no 31 of 2011, which was to come into effect 30 days after the date of publication in the gazette,was going to allow operators to paint their vehicles in any color of their choice.
Communication and Transport minister Professor Godfrey Lungwangwa said the removal of the colour code for Public Service Vehicles was going to directly reduce the compliance costs of entry into the business by all PSV operators.
Professor Lungwangwa also said that the move was in response to bus operators and advertising firms request to government to reconsider the colour code so as to exploit the business opportunity of utilizing PSVs as channels of effective information dissemination.