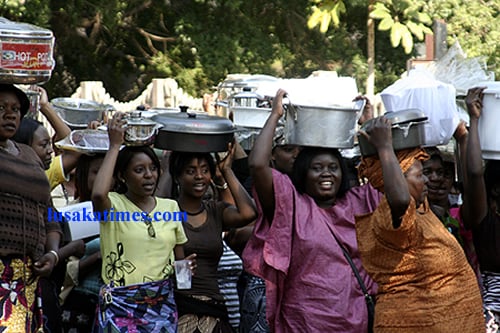 Dear bloggers,
I had been married for 5 years but after 2-3 years I started feeling like I had fallen out of love with my husband. I felt the biggest mistake I ever made was accepting to marry him in the first place.I was 24 years at the time recently graduated from UNZA and felt the pressure to marry.Pressure came from relatives who always passed comments at my always being on other peoples wedding line ups.Well, I had been living with my boyfriend for a year and felt it only right that we should marry.
Over the years living with him became a struggle.I crudely joked that for all those men who say, "Why buy the cow when you can get the milk for free, there are women who are also thinking, "Why buy an entire pig, just to get a little sausage!"
I found every excuse to be away from my husband.I was at every baby shower,kitchen party,wedding,poverty reduction seminar…..I was just short of joining those women who entertain the president at the airport everytime he flew in or out.
My husband is generally a good man but I feel sometimes we have nothing in common anymore.Ok I'll say it, he bores me to tears sometimes.
I would love a man with more knowledge of World affairs and a man who wears the pants in the home.I have to come up with the ideas of how to invest our money,where to build our home etc.All he does is watch football and drink.He never plans ahead and when he does,he does not follow through with the plans.
I would also love to get out more,visit different countries,visit game parks etc.Even taking a trip to Livingstone to see the Victoria falls to him is an issue.
Recently my brother was going to Tanzania to pick up a Japanese car and I jumped at the idea to go with him.I planned to visit one of my friends living in Dar es Salaam.My friend promised to take me on a site seeing trip to Mount Kilimanjaro.This was a chance of a lifetime but my husband vehemently refused saying it would be a waste of money. I went to Tanzania anyway.Its not like I couldn't buy my own air-ticket.I'm as financially sound as he is.I had so much fun especially seeing mount Kilimanjaro.I then flew to South Africa to visit my sister.Her husband is a Ranger in the Tsitsikamma National Park.It was a chance for me to visit the famous Tsitsikama forests.
I had an awesome time in South Africa.The Tsitsikamma's spectacular scenery which included the Indian Ocean breakers, pounding rocky shores beneath 180m high cliffs was a sight to behold.The ever-green forests and fynbos rolling down to the sea in a lush carpet, where ancient rivers have carved their path to the ocean through rocky ravines was awesome.I felt to blessed to be there.The highlight of my trip was bungee jumping of the Bloukrans Bridge.
Being in nature and away from my husband gave me plenty time to think.Perhaps my expectations of my husband were too high.Perhaps I was trying to change him instead of changing myself.Was I serious when I said those marriage vows? My grandparents had been together for over 50 years before they died and theirs was an arranged marriage. Surely there must be something I was missing.What makes two strangers marry and go on to stay together for 50 years.
I determined to fly back to Zambia and find out what that secret glue was that made people stay together for better or for worse.I would be grateful for any ideas.
Yours
Lady M
[Read 53 times, 1 reads today]