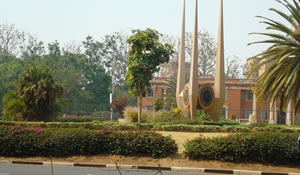 The Lusaka High Court has dismissed the petition by the Patriotic Front -PF- to restrain President Rupiah Banda from filling nomination papers for the September 20 general elections.
Judge in Charge Jane Kabuka dismissed the PF Petition following the Preliminary issues raised by the defence lawyers.
Judge Kabuka has ruled that President Banda, who is the subject of litigation, is not party to the proceedings.
She states that on this ground, any adverse decision on him amounts to the breach of rule of natural justice.
This is in a matter, where the PF sought an injunction to prevent President Rupiah Banda from contesting the September 20 elections because his parents were allegedly not Zambians.
Prior to the ruling, Defence Lawyers submitted that the action be dismissed.
They argued that the High Court has no jurisdiction to preside on controversies on Presidential qualifications.
The Defence lawyers submitted that any controversy on the Presidential qualification is the preserve of the Supreme Court.
Meanwhile, MMD national Secretary Major Richard Kachingwe has welcomed the High Court ruling.
Major Kachingwe says President Banda will therefore file in his nomination papers on Wednesday to contest the Presidency.
He says the PF's move to drag President Banda to court on parentage issues is part of the party's scheme to destabilize the nation.
Major Kachingwe was speaking in an interview with Journalists at the High Court on Tuesday in Lusaka.
But the Patriotic Front -PF- says it will appeal to the Supreme Court against the judgment delivered in the High Court over President Rupiah Banda's parentage.
PF Secretary General Wynter Kabimba says the Judge misrepresented herself when she threw out the case.
Mr Kabimba was speaking to ZNBC News in Lusaka on Tuesday.
[ZNBC]