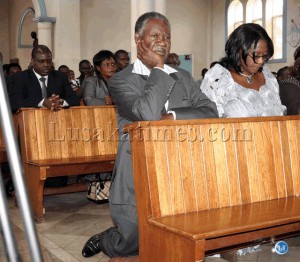 By Gray Soko
One of the international observers to the just ended elections said that the successful outcome of the elections should be a victory not only for the winning party but for Zambia. Indeed it is all about Zambia and not the party in power. The tragedy in Africa has been that the party in power becomes an end in itself, seeking its own self preservation to the detriment of the nation. The people have given PF a categorical mandate as HE MC Sata said in his inaugural speech. It is a mandate to serve Zambia and not to be served.
The PF vice president Guy Scott has recently been quoted as saying that the PF government is committed to road rehabilitation, among other issues. Our roads are generally in very poor shape and need to be brought to civilized standards. However, as I said in my earlier article of 14 August 2011 ( What if Zambia..), we should be aiming higher than maintenance projects. They are necessary but do not constitute development or take the country to a higher level.
To recap, the new government should focus on higher issues of rail/road network redesign, technological/scientific research and development not just building more schools on antiquated syllabi, take agriculture and tourism to a higher level instead of endlessly talking about its potential and avoid total dependence on extractive mining, create a niche to benefit from Zambia's central geographical position on the continent and have a slimmer and smarter government structure.
Unless there is a quantum shift in the way we do things, the country will still lag behind with high unemployment and poverty levels despite the country's abundant natural and human resources. It will be like having a new crew on the boat still headed for the waterfall except that it is not for fun rafting.
One way I feel the government could address these issues is the formation of non-partisan think tanks to focus on key developmental and technological policy directions. Initially these think tanks may have to be government funded but given sufficient freedom to freely research and advise appropriate policy approaches. Many countries in the world have think tanks ( over 4500) and India has the third largest number of think tanks. Needless to say this has contributed in no small way to its development.
The think tanks for specific areas of need will bring together expertise in various fields to research and give appropriate advice to government and industry. We cannot simply rely on party manifestos although they are important in spelling out the vision but no party or government anywhere has the necessary expertise on all economic, environmental, health, social security or defence and security matters.
Previous governments have appealed to Zambian professionals abroad to come back and help develop the country but there must be real challenges and a progressive environment for them to operate. It is certainly not correct to assume that there are no Zambians locally or abroad who can spearhead the quantum leap into the 21st century. We just have to work smarter, demand commitment, transparency and prudent use of our resources .