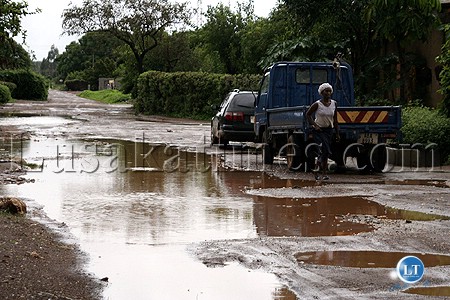 By Nellow Simukonde (Civil Engineer)
In the last 10 years, Zambia has seen a huge influx of used vehicles from Japan. Many individuals and families are now able to afford one or two of these cheap used vehicles. Vehicles of different types flood the streets everyday, many being used for businesses as cabs and minibuses. While it is unarguably a pleasant change to be able to afford and own a vehicle for most individuals, there is a downside in our current economic climate that seriously needs attention in Zambia as traffic volumes continue to grow.
The increase in traffic volume without proportionate improvement in roadway capacity and quality and,consequently, it's direct and indirect impacts on the economy should be a major concern for the government.
Bad roads have had a wider negative impact on the Zambian economy than just direct impact on businesses. Fuel in Zambia costs up to k10,000 per liter (approximately $7 a gallon), depending on where you are in the country. This is very expensive. If you have inadequate roads, businesses and individuals spend more time on the road. In Lusaka, in particular, motorists, including individuals, spend time every day idling in traffic jams from excess traffic volumes.
firms and businesses will find it unfair for the government to ask them to pay higher wages when it has not created an environment that would enable better profitability to enable those firms to pay the higher wages
There is a significant amount of money wasted everyday by people and businesses just sitting on the road, burning expensive fuel. More money is also
spent to maintain the quickly wearing vehicles as they are driven on trenchy unpaved roads, dust, potholes and jagged edges of pavement.
On a macroeconomic scale, billions of kwacha are wasted every year because of inadequate roads. This is money individuals could save, start businesses and employ people thereby, boosting demand in those businesses. The result is the same – those businesses do better,expand and employ/pay more.
This waste applies to government operations as well.An efficient road system – safe roads with good, smooth pavement, good geometric design and good traffic control devices – means that businesses spend less time on transportation. Less time spent on the road means less money spent on fuel and overtime payments to drivers.
Most importantly, a good paved road will result in lower rates of depreciation of capital (trucks, etc) and reduce lost production. A business that owns a truck for 20 years instead of 10, as a result of good roads, saves money for expansion, hiring more workers and better wages.
In Zambia, fuel has an inelastic demand for almost every one that owns a functional vehicle. Individuals will sacrifice other important necessities just to buy fuel and be able to drive. This inelastic demand helps to keep fuel prices up and increasing. This is strange given people can easily do without a vehicle, or at least drive only occasionally.
Public transportation is available everywhere. A new culture in which a car has become a necessity has overtaken the country right under the MMD government's nose, otherwise government would have seen the need to invest in good, durable roads or at least control the influx of these cheap vehicles. And I do not consider the recent mediocre work on roads for purposes of swaying voters as improvement or sound investment. It is a complete waste of money.
The PF government has taken a zealous approach towards change and, in particular, improving labor conditions and creating employment. It is
important to note that while creating employment is a noble pursuit,we need to consider that jobs in the private sector are a result of long term initiatives and policy implementation. Job creation is a result of effective implementation of supply side policies -investment in good roads, lowering taxes, most important of all being the need to address the prohibitive interest rates.
The government's effort to raise the minimum wage is cause for a lot of excitement for workers. However,it is important for the Ministry of Labor to consider the impact of suddenly raising the minimum wage, ahead of implementing policies that lower business costs, increase productivity and profitability;i.e.policies that will lower production costs for firms and lead to higher productivity from existing factors of production. Without these changes, raising the minimum wage may force many small businesses to lay off workers and we may accomplish the very opposite of what we seek in the short term.
It sounds good to many to hear that their wages will be increased, but not so good if it means that they will have to sacrifce their job so that a co-worker can be paid a higher wage as required by government. In other words, firms and businesses will find it unfair for the government to ask
them to pay higher wages when it has not created an environment that would enable better profitability to enable those firms to pay the higher wages. The latter must come before the former. If the cost of labor increases in the absence of the capacity to increase productivity otherwise, firms and businesses will likely downsize and unemployment will go up.
In some cases, the increased wages may increase the productivity of the remaining workers and maintain the firm's production, but someone will still have lost a job and will hurt to feed his/her family. The current reality is that one would rather have a job earning k500,000 than not to have a job at all. The government must approach this issue cautiously because, for right now,it needs a wide tax base, and also has expectations to live up to by
December 22.
An unemployed citizen does not pay income taxes.It is comforting to see that our new government has turned an ear to the prohibitive interest rates that have also prevented businesses from borrowing soft loans, expanding and creating employment. However,high interest rates have mostly resulted from lack of lender confidence in businesses and you cannot blame the banks, because they are also businesses.
Businesses must be sound to qualify for soft business loans from banks. And if they are not sound enough for a bank, they are probably not sound enough even for government grants or subsidies. So, we come back to roads (or indirectly cutting production costs) because this is a one direct responsibility of government that could help businesses (farmers included) become sound in the first place.
I know the pressure is on for the new government to present a semblance of accomplishment in a very short time. However, I hope rush decisions will not be made on the supply side of the economy,especially decisions that reduce labor market flexibility beyond what it is right now, for the purpose of putting more money in people's pockets. With this expectation in people's minds, losing their job instead, would be disastrous.
The PF government must not only work to cushion businesses by helping them produce more by lowering their costs, but also tell them exactly what the government will do to accomplish this. This will create confidence and encourage those that already have the ability to pay more wages to do so even before they are required to.
My congratulations to President Sata on his election victory. I wish him a lot of success as president. His success is Zambia's success.