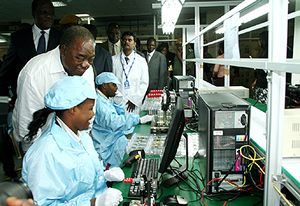 ZAMBIA'S mobile phone assembling plant, M-mobile Telecommunications, (M-Tech) Limited says the increasing number of imported mobile phones on the market has impacted negatively on the firm's growth.
M-Tech chairperson Mohamed Seedat said the firm has since 2009 faced stiff competition due to the influx of phones being imported cheaply.
"Business has not been favourable, because of the stiff competition from the phones being dumped on the market from China which are heavily subsided. This has resulted in us failing to fully penetrate the local market," he said.
M-Tech mobile handsets with double sim cards cost K150,000 while those with a single sim card cost K140,000 but the market is awash with cheaper handsets with some costing as less as K50,000.
The US$10 million mobile phone assembling plant was set up in 2009 to provide affordable mobile phones to the public and to enhance economic development through employment creation.
Mr Seedat said this in an interview in Lusaka recently.
He said there is need for Government to come up with policies that will protect the local industries.
Mr Seedat said Government should introduce a system to register all phones coming into the country because most of the handsets are allegedly being imported duty-free.
He said reducing the cost of production will also enable local products compete favourably with imported products.
Mr Seedat said plans to export mobile phones to countries within the southern region are on hold because like Zambia, the countries have not been spared from the influx of heavily subsided mobile phones.
He, however, said the firm is committed to grow and contribute to the country's economy adding that the company is negotiating with local mobile service providers on possibilities to partner in business.
M-Tech has since 2009, produced 12,000 single and dual -sim phones. "M-Tech plans to produce about 5,000 phones by the end of this year and plans are also underway to produce triple-sim phones," he said.
[Zambia Daily Mail]
[Read 120 times, 1 reads today]