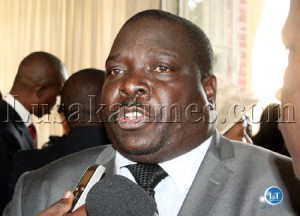 MINISTER of Foreign Affairs Chishimba Kambwili says Zambia has held bilateral talks with the Malawian government, which has promised to send an envoy to Zambia to deliver a special message to President Sata and an apology over his deportation in 2007.
"When we were in Perth (Australia) we had bilateral talks with the Minister of Foreign Affairs of Malawi, who is His Excellency President Bingu wa Mutharika's brother, and he has promised that he is coming to Zambia to deliver a special message and an apology to His Excellency President Michael Chilufya Sata," Mr Kambwili said
And Mr Kambwili has said that Government is waiting for Cabinet approval to recognise the new Libyan government after the ousting and subsequent death of former leader Muammar Gaddafi. Mr Kambwili said in an interview on Thursday Government will reopen its embassy in Libya after Cabinet approval, which the MMD administration closed during the unrest that rocked the North African country.
"I can tell you that we are waiting for Cabinet approval on whether to recognise the new government of Libya. Zambia believes in the sovereignty of other states and will not interfere in their internal matters. If the people of Libya have agreed to change government then we will respect that," Mr Kambwili said.
He said he does not see any reason for Cabinet to fail to approve the recognition of the new Libyan government because no-one has objected to it. Mr Kambwili said the previous administration completely closed the embassy in Libya and opened another in Turkey.
"As PF government, we are relooking at the whole issue. We would rather maintain the embassy in Libya and open the one in Turkey," Mr Kambwili said.
[Zambia Daily Mail]
[Read 11 times, 1 reads today]