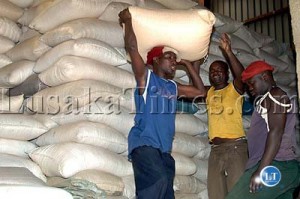 Zambia exported more than 496,000 tonnes of maize to its neighbours from September last year to October this year after a bumper harvest left it with a surplus of 1.6 million tonnes, the Food Reserve Agency (FRA) said on today.
The maize exports went to Zimbabwe, Democratic Republic of Congo, Kenya, Mozambique, South Africa, Botswana, Burundi and Namibia, the FRA said in a statement.
The agency said over 496,000 tonnes valued at 427 billion kwacha ($86 million) sold on the export market and that about 300,000 tonnes valued at 250 billion kwacha sold on the local market.
Total maize stocks held by the FRA by October 2011 amounted to over 1.9 million tonnes, including about 300,000 tonnes in carryover stock from the previous season, it said.
The FRA planned to sell slightly over 1 million tonnes of maize as soon as possible and use the proceeds to pay back loans the agency obtained from commercial banks, it said.
Zambia's maize production in the 2010/2011 season was projected to rise to over 3 million tonnes from the 2.8 million tonnes produced last year, a crop forecast showed in May
[Reuters]