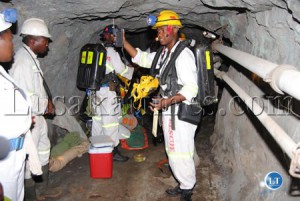 The government of Zambia has given a waiver to China's Jinchaun Group to take over Chibuluma copper mine without putting up a mandatory offer which would have seen the new owner buy off shares held by the Zambian Government and other minority shareholders.
Chibuluma mine is owned by South African-based and JSE-listed Metorex Limited, which is in the final stages of being taken over by the Jinchuan Group. In a statement jointly signed by the two parties, they said the Zambian Government had unconditionally and irrevocably consented to the completion of the scheme of the arrangement.
The statement said the Ministry of Finance and National Planning had also waived its rights to require Metorex to acquire its special share interest in the Metorex business over Chibuluma Mine, in which government holds a 15% stake through the ZCCM-IH.
"As a result of having obtained the mandatory offer waiver, Metorex is able to formally approach the Zambian Securities and Exchange Commission (SEC) to obtain an exemption from any obligation to make a mandatory offer to minority shareholders of Chibuluma in accordance with the SEC regulations," the statement said.
Exemption from the SEC from making a mandatory offer and securing consent from the People's Republic of China are the only two steps left before the deal is concluded. With regard to the Chinese government consent, last month Jinchuan Group reported that progress had been made towards getting approvals and consents from the relevant authorities.
"Application documentation has been formally accepted by the relevant authorities, and Jinchuan advises that it believes the process is progressing well, and anticipates receiving the relevant approvals and consents in due course," Metorex said.
[Mining review.com]
[Read 18 times, 1 reads today]