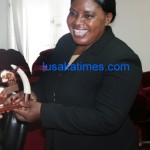 The Auditor General's report for the year 2009 has revealed glaring irregularities in various parastatals.
Irregularities that have been cited include unretired imprest amounting to K1.4 Billion , 14 Billion Kwacha in unsupported payments and irregular payments totalling K 4 Billion.
Parastal bodies that have been found wanting include ZESCO, the Road Transport and Safety Agency -RTSA- and the Citizens Economic Empowerment Commission -CEEC.
Others in the report include ZSIC, Judiciary headquarters, the State Lotteries Board and NATSAVE.
Other irregularities pertain to fuel amounting to 2 billion Kwacha.
The report also sites 1 Billion Kwacha which is unaccounted for and 10- Billion Kwacha of irregular procurements.
This is according to a statement released to ZNBC news on Thursday by Ellen Chikale the spokesperson in the office of the Auditor General.
[ZNBC]
[Read 14 times, 1 reads today]