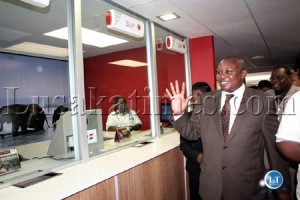 The labour movement in the financial sector says lack of a Governor at the Bank of Zambia undermines the respect due to the institution.
Zambia Union of Financial Institutions and Allied Workers–ZUFIAW- President, Cephas Mukuka said the state of affairs is hampering investors' injection of capital in to the country.
The dismissal of Central bank governor Caleb Fundanga with six months to go on his contract also raised eyebrows among investors, who had approved of his tight grip on prices and oversight of the kwacha currency.
Mr. Mukuka told MUVI TV BUSINESS News that the position of Bank of Zambia Governor is critical to Zambia's economy.
It is almost three months now since the former governor Dr Caleb Fundanga was relieved of his duties. President Sata is yet to appoint a successor.
Dr Caleb Mailoni Fundanga had served as Governor of the Bank of Zambia since March of 2002.
He was appointed Governor, after serving as Senior Advisor to the President of the African Development Bank in Abidjan, Cote D'voire from 1998.
Dr. Fundanga further served as an Executive Director at the African Development Bank.
Dr. Fundanga also served as Permanent Secretary in the Ministry of Finance for six years at Cabinet Office before finally winding up in the Office of the President as Permanent Secretary in charge of the National Commission for Development Planning.
Dr.Fundanga was at the helm of the sale of Finance bank.Finance bank had been sold to First Rand Bank of South Africa by the previous government for alleged breach of the Banking and Financial services Act.According to a Government Gazette notice on the possession of Finance Bank Zambia Limited,the Finance Bank chairperson Rajan Mahtani had been named as having been involved in indirect acquisition of shares into the bank through complex arrangements that violated the law.
However in a dramatic turn of events,President Michael Sata after taking office instructed Finance minister Alexander Chikwanda to return Finance Bank Zambia Limited to its previous owners after firing Dr.Caleb Fundanga.
[Read 11 times, 1 reads today]