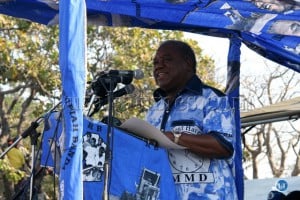 Minister of Information, Broadcasting and Labour Fackson Shamenda has said that former President Rupiah Banda will not be paid his retirement benefits as long as he remains in active politics. He said the law is clear regarding the payment of benefits to former Presidents.
Mr Shamenda said this following Mr Banda's remarks that he will continue to be president of MMD until a new leader is elected at the convention in April.
Mr Banda declared that he will continue to support the former ruling party even after a new leader is elected. But Mr Shamenda said Mr Banda should be wary of the consequences of his decisions.
"It's up to him (Mr Banda). If he wants to continue participating actively in politics, he should bear the consequences of doing so," he said.
Meanwhile, media bodies have castigated Mr Banda for accusing the public media of being reduced to mouthpieces of the government.
Press Association of Zambia president Andrew Sakala said Mr Banda is aware of the fact that himself, his press aide Dickson Jere and former Minister of Information and Broadcasting Services Ronnie Shikapwasha allegedly used to give directives to public media heads.
"In fact, it is under Mr Banda that there was interference in the operations of the public media. I am talking from facts because I worked for the Times of Zambia and I was dubiously retired for standing up for the truth," Mr Sakala said in an interview yesterday.
Mr Sakala said it is unfortunate that former leaders are now crying foul over media coverage when they had turned the same institutions into propaganda tools for their selfish interests.
He said Mr Banda and the MMD lost an opportunity to transform state-owned media into better public media institutions by meddling in their operations.
Zambia Union of Journalists president Anthony Mulowa expressed disappointment with the former President's remarks on the public media.
"I don't see any sense in Mr Banda's comments on the public media. He abused the media. It is disappointing that he can cunningly accuse the media under the PF Government of being biased," he said.
Mr Mulowa said every Zambian knows how Mr Banda's administration reduced the state media to propaganda tools.
He said Mr Banda should sober up and accept the loss of power to President Sata, instead of attacking public media organisations which are now operating professionally.
Zambia Union of Broadcasters and other Information Disseminators president Martin Maseka said Mr Banda should not cry foul now, after failing to implement media reforms.
[Zambia Daily Mail]
[Read 3 times, 1 reads today]