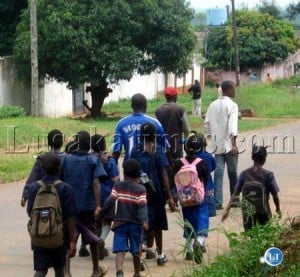 By Martin Mulenga (CEO Sibonginkhosi Foundation)

We would like to express our concerns about the rise in the cases of child defilement in last few months in our country. It is indeed disheartening that our men continue such activities with impunity despite the massive sensitization against this evil and the harsh punishment of minimum of 15 years imprisonment that comes with it once arrested.
UTH reported recently that the number of defilement cases being recorded has been on the increase and that now it's an everyday situation especially among girls between the ages of 12 and 14 years. We are aware that child defilement has been in existence for a lot of years back but with much awareness nowadays, we expect the tread to be going down instead of having an upward gradient.
It is in our view that this evil will not be won through stiffer punishment and sensitization only but also by personal effort and change of mentality by the citizens to stop the activity. This is an evil that has everything to do with myths of cure for some STI and AIDS or Cleansing from some evil spirits of some sort and/or mere lack of self control. We are making an earnest appeal to our men to brash these myth's away and face reality to say that these acts are wrong and should not be allowed to continue at all.
ICHIKU TACHIPALAMA NAMULILO
We further would like to appeal to our parents and guardians to ensure they are not loose on their children especially when going and coming back from schools. Let's ensure that our children are escorted and collected at reporting and knocking off times respectively. It is also important that our teachers live up to the trust that people have in them as parents or guardians leave their children in their hands for hours.
Teachers therefore need to find time to explain to the children that they need not to be silent about men touching them in certain ways or even having sex with them but should tell the parents or/ and the teachers about it immediately no matter what even if the abusers give them sweets, money or even threaten them.
We have seen situations where school going children are busy hiking vehicles asking for a lift from strangers.Our children need to be taught to fear people they do not know.We also should be wary not to let our children loose on every relative just because it's an uncle, cousin or brother because these have been found to be the main culprits seeing that they are trusted.
Once the matter is reported no matter who is evolved, father, uncle, grandfather, friend, brother must be reported to the police so that it acts as a deterrent to other would be perpetrators.
It is also a serious concern to note the number of small girl's patronizing clubs and taverns and drinking alcohol while implicitly dressed. These are some of the main reasons why you find even big men are being tempted to have carnal knowledge with small girls. We should not let things to chance, Bemba's say;" ICHIKU TACHIPALAMA NAMULILO". Girls need not to take themselves to the sacrificial alters they need to respect, keep themselves and concentrate on things that will positively affect their lives not alcohol consumptions and illicit relations with big men all for the love of goodies and money. Parents need to ensure they provide for the needs of their children and avoid too much child bearing if they do not have the capacity to look after them.
We further urge all clubs owners to strictly stop underage patrons in their premises but further we urge the councils not to relent in enforcing the law. We urge religious organizations and business communities to talk against these evils in their congregations during their preaching and meetings so that the message can go across as we need every one to rise up and fight this wrong tooth and nail.
We on the other hand, would like to recommend parents, guardians and everyone who has come out in the open to report to the relevant authority's and speaks against such a vice.
[Read 506 times, 1 reads today]