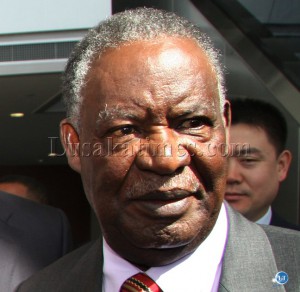 Zambians for Empowerment and democracy Leader Fred Mutesa has charged that president Michael Sata has failed to show his political and governmental experience in his governance system.
Dr. Mutesa says the continued changes in the ministry portfolios is a source of concern as it the practice is most likely to cost more at the expense of other developmental programmes.
The opposition leader notes that Zambia has been implementing the public service reforms which have over the years have seen structural changes to suit the operations of the governance system.
Dr. Mutesa who described the recent changes in the ministrys by President Sata as costly experiments, questioned the rationale behind the continuous re-alignment of ministries.
Dr. Mutesa has told QFM that the PF is now reversing to the system that the MMD left after its experiments of trying to make the ministries suit its ill- conceived agenda failed.
He added that the PF stands to miss its opportunity to improve on the MMD record of failing to deliver to the expectations of the Zambian people.
President Sata last week announced the changes in the portfolios of selected ministries which also saw a mini cabinet reshuffle.
The Ministry of Local Government was changed to Ministry of Local Government and Housing with Professor Nkandu Luo carrying on as Minister.The Ministry of Education will now be known as Ministry of Education, Science, Vocational Training and Early Education and will be Presided over by Dr John Phiri as Minister.
Additionally, the President transferred Christopher Yaluma to the new ministry to be identified as Ministry of Mines, Energy and Water Development.
Wilber Simusa was made the Minister in-charge of Lands, Natural Resources and Environmental Protection.
President Sata transferred Dr Ngosa Simbyakula from the Ministry of Justice to the Ministry of Home Affairs as Deputy Minister with a special responsibility of spearheading the creation of district attorneys' chambers countrywide.
Dr Simbyakula replaced Obvious Mwaliteta who was transferred to Southern Province as provincial Minister taking over from Miles Sampa who was brought to the Ministry of Finance as Deputy Minister.
President Sata also reassigned Finance Deputy Minister Alfreda Kansembe to the Ministry of Justice in the same capacity.
[Source:QFM,State House press]
[Read 10 times, 1 reads today]