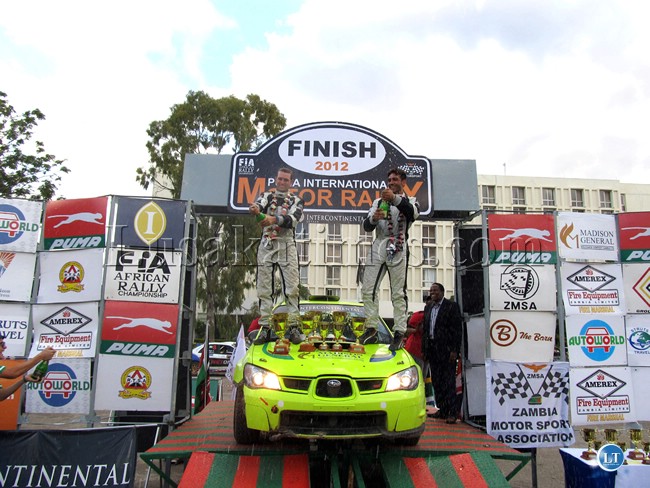 Moments after young rally driver Mohammed Essa had won the 2012 Puma-Energy Zambia International Motor Rally on Sunday, his joy turned into a nightmare as he was involved in a road traffic accident that claimed a life.
Zambia Police spokesperson Elizabeth Kanjela confirmed the development in Lusaka that Essa has since been charged with causing death by dangerous driving contrary to section 161 of the Road Traffic Act No.11 of the 2002 and would appear in court soon.
Kanjela said the accident happened on Sunday night around 20:30 hours along Kafue Road opposite Metropolitan School.
This was when a motor vehicle, a Subaru Impreza, registration number N15, belonging to Essa, aged 22, of Plot D1/D379A, Makeni hit an unknown pedestrian aged between 30 and 35, who was crossing the road.
She said the pedestrian sustained fatal injuries and died upon arrival at the University Teaching Hospital (UTH) and that the body was still lying in the mortuary awaiting identification and burial.
Kanjela said Essa was arrested around 21: 00 hours and was released on bond on Monday around 09:00 hours.
Essa, who is co-driven by Zimbabwean Greg Stead, won his maiden Zambia International Rally title on Sunday to open up a 27-point lead in the ongoing eight-legged FIA African Rally Championship (ARC).
Zambia Motor Sport Association (ZMSA) vice president Sam Ching'ambu expressed sadness at the accident that led to the untimely death of a pedestrian but dismissed allegations that Essa was driving under the influence of alcohol as perceived by the public when in fact he does not take alcohol.
Ching'ambu said a the Lusaka Sports Motor Club that the accident was regrettable as it coincided with hosting of the 2012 Puma Energy Zambia International Motor Rally which Essa won to take over lead of the Africa Rally Challenge (ARC).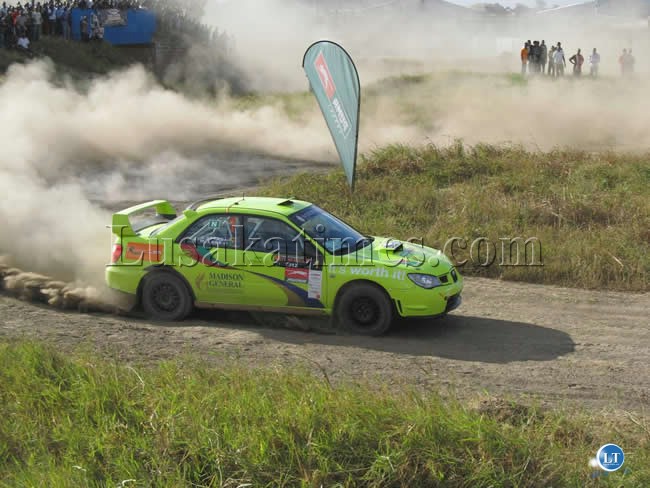 He said rally events ended at 18:30 hours on Sunday and that ZMSA will not take action on Essa as the matter was personal because he was driving his personal vehicle after the rally function at the Lusaka Motor Club had ended.
Ching'ambu said ZMSA will let the law take its course as the accident was now a criminal matter under investigations by the police.
He said the accident would have happened to any other person be it a sportsman adding that the local authority should take keen interest on happenings on the road because the bridges erected were not been used by pedestrians.
"For the record, Essa does not drink and even when we had a thank you party he brought his own champagne to celebrate and he left here after the function driving his personal car and has a license with the Road Traffic and Safety Agency (RTSA). So whatever happened was a personal matter which should not attract punishment from ZMSA," he said.
Ching'ambu, who was flanked by Paul 'Poncho' Monge, expressed confidence that Essa will be able to pull himself through this difficult time and re-refocus on wining the ARC Kenyan Safari rally which takes place on June 8 to10.
Meanwhile, the International Automobile Federation (FIA) Africa region vice-president sport, Surinder Thatthi has said Essa has potential to become Africa's top driver.
"The FIA African Rally Championship (ARC) 2012 is currently being led by a Zambian Mohammed Essa and this youngster has shown great promise over the last few years as the next top driver hope for Africa.
"Having narrowly missed a place in the Pirelli Rally Star selection and being noted as a very promising talent by the FIA selectors,Zambia can be proud that they have another new 'star' who has come of age," said Thatthi, who navigated legendary Satwant Singh.
He said Zambian rally drivers hold the record with the highest number of wins in the ARC with eight-time African champion Satwant and his nephew Muna Singh who has won the continental title twice.
Surinder said before the start of the 2012 season, the Confederation of African Countries in Motorsport (CACMS) members decided at an annual congress held in Cape Town to try one year with no registration for the ARC drivers and co-drivers.
"We want to see if drivers who might start later in the year like we had 'Joda' from Madagascar in 2011 who started late but scored very well but was not eligible for he did not do the north and south region events as required. Let's see how this works and conclude at the end of this year if ARC registration is good for us or not," he said.