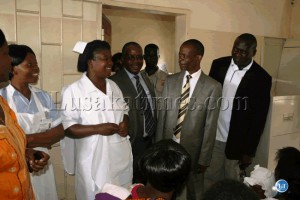 Government says it will ensure that laboratory tests are done to prove that Zambia is not a risk area for yellow fever in the region.
Minister of health Joseph Kasonde says government does not want to push the reclassification of Zambia as a low risk area for yellow fever without scientific evidence.
Dr.Kasonde has told journalists at a media briefing that he also held meetings with South Africa's minister of health and World Health Organization regional director on how best to handle Zambia's Yellow fever ranking.
And Dr. Kasonde has also told journalists that government plans to establish six hospitals in Lusaka to cater for the growing population.
The district hospitals would be in Chilenje, Chawama, Kanyama, Chelstone, Chipata and Matero.
The minister has noted that the Chawama and Chilenje clinics that were classified as first level hospitals by the previous government do not meet standards of a hospital but has added that the current government will work towards upgrading such facilities.
Dr. Kasonde has also told journalists that the ministry of health is in the process of engaging a consultant to do feasibility studies on the modernisation of the University Teaching Hospital (UTH).
The minister has also indicated that plans are underway to expand the cancer hospital so that it can begin to offer in-patient and training services.
He adds that OPEC Fund for International Development (OFID) has agreed to give a grant for the Phase two of the cancer hospital construction works.
Dr. Kasonde notes that the PF government will continue to upgrade health facilities in the country for improved health services.
QFM