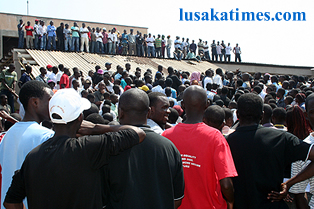 Over 353 Copperbelt University students staged a protest for non-payment of meal allowances since the academic year opened five weeks ago.
The students have given the bursaries committee 24 hours ultimatum to pay the remaining amount failure to which they would boycott classes.
The students matched from the campus on Jambo Drive to Zambia National Broadcasting Corporation where they blocked the entrance and some students openly wept that they were starving.
The students condemned the bursaries committee for ineffectiveness in dealing with the student's allowances.
Copperbelt University Students Union president Thompson Luzendi said the government should deal with the bursaries committee alleged inertial when dealing with students issues.
"The committee is so effective, how does it expect the students to survive with the allowances," Mr Luzendi said.
But when contacted education minister John Phiri said he was not aware that some students were not paid their allowances.
Dr Phiri however said he would follow the matter the permanent secretary and chart the way forward.