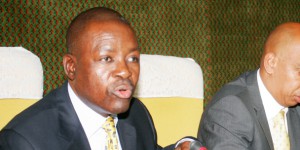 Patriotic Front (PF) Secretary General Wynter Kabimba has said the influx of former MMD members joining the ruling party does not mean that the new comers would get key positions in the party's structures.
Mr. Kabimba, who is also Minister of Justice, said PF will not allow a situation where key party positions are given to new members.
He said the Movement for Multiparty Democracy (MMD) was now experiencing problems because of alleged poor leadership in the party.
Mr. Kabimba was speaking last evening on ZNBC programme dubbed, "National Watch" monitored by ZANIS in Lusaka.
"PF welcomes the exodus of MMD members into our party but the influx does not mean they will take over key positions in the ruling party," Mr. Kabimba said.
Former MMD Mpongwe Member of Parliament and Chairperson for Elections, Gabriel Namulambe is the latest to leave his party to join the ruling PF.
Others are veteran politician and former MMD Lusaka District chairperson Donald Chilufya, former Mines Deputy Minister Jazzman Chikwakwa and Christopher Ngoma.
On job creation, Mr. Kabimba appealed to young people in the country to be patient as government was creating job opportunities for them.
He said jobs cannot be created overnight hence the need for youth to wait adding that the PF government has a passion to improve the welfare of young people in the country.
He said the PF government will work hard because it had entered into a social contract with the Zambian people to improve their welfare as enshrined its party manifesto.
ZANIS