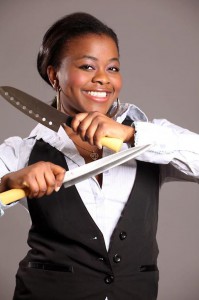 KAPA187: How did you come up with the name of your restaurant ?
Lillian:  My mother is Soli and in Soli when we say Ku Twaala it means to bring, and at Twaala restaurant we bring people the best service and goods and they take from us pleasure.
KAPA187: What type of cuisine do you specialize in?
Lillian: Personally and professionally, I am more specilized in European cuisine, but at the restaurant it is an Afro- European fusion where we get the best from Zambia, like the famous Chikanda Sandwich, Kariba Sunset salad, The bige Five, combination of all the top five desserts in our Zambian cuisine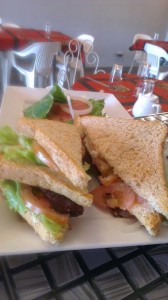 KAPA187:  What challenges did you face when starting up the restaurant?
Lillian:I was given three weeks to start up the restaurant, so in that itself was the biggest challenge. secondly, getting the right staff both in the kitchen and service. The carpenters for the chairs and tables, and mostly food suppliers, it has been a set back to know that some of the major companies cant supply certain items and it can be discouraging.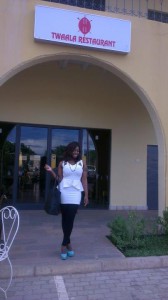 KAPA187:  What motivated you keeps going and realise your dream dispite your challenges.
Lillian: What motivates me is knowing that this is a purpose bigger than what I had imagined. The will to succeed, to make my mother proud, and all the tears, pain, hurt, work I have worked so hard for and also contributing the better of the hospitality business in Zambia in terms of having something that is Zambian and proudly Zambian and not entirely imported from elsewhere
KAPA187: You have been a chef in many countries all over the world , what experience do you bring to your resturant.
Lillian: I bring the experience and diversity to a lot of our guests. I mentioned the restaurant is Afro-Euro fusion and in terms of food standards, service, staff treatment, I bring another different perspective and dimension to the gastronomy industry
KAPA187: How was the response on your opening day and did you learn from it.
Lillian: I make sure before I sleep, I have learned something important and the opening day, everything that could go wrong did but I learned to keep calm and think outside the box. I am the manager, if I start stressing and freaking out, my staff will lose their focus and will, but the response was good. People love the Chikanda sandwich and the ambiance.
KAPA187: Do you feel the economic climate in Zambia is favorable to local investors such as yourself?
Lillian: Africa is the continent to be at the moment, and as for me looking at it from the economic aspect, yes it is but also in my industry, few Zambians eat out and for me is getting that habit of eating out and experiencing the restaurant industry which in return will be beneficial to everyone.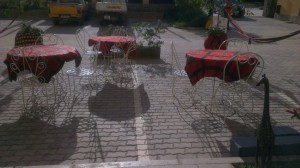 KAPA187:  Do you plan on expanding your resturant to other parts of Zambia.
Lillian: Other parts of Zambia, not yet planning but definitely, there are plans of opening another Twaala around Lusaka.
KAPA187: Tell us where twaala resturant is located.
Lillian: Twaala restaurant is located at Foxdale court shopping mall in Roma, Zambezi road, most people know it as Spar you can book your reservations as we are having our festive promotions starting from the 22nd Dec to the 28th December at 0979127039
KAPA187: What words of encouragement do you have to other women who are planning on setting up their own businesses?
Lillian:Words on encouragement will be to stay focused, believe in yourself and don't get afraid when your friends, family or people leave you during your process, keep faith and always remember to learn something new. Be humble, and grateful, with that I wish you all the very best.
KAPA187: Any last words….
Lillian: I would like to thank everyone who read the last article and those who have been supportive and I encourage you all to come through to the restaurant to taste the notorious Chikanda sandwich, savannah fiesta and many other Afro inspired dishes. I am honoured to ran a restaurant that we can put proudly Zambian on. I wish you all warm welcome to Twaala restaurant, Ni Ntazi ( Power)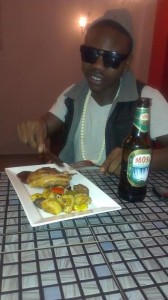 May God bless,
Bayete
View a previous interview with Lillian here : http://www.lusakatimes.com/2012/01/25/interview-professional-chef-lillian-elidah-dakamumba/?preview=true&preview_id=44319&preview_nonce=33c2b86e51
BY KAPA187
[Read 48 times, 1 reads today]