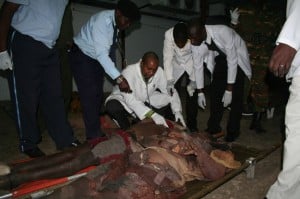 President Sata,has praised the defence and security personnel for restoring peace and order in Central Province's Luano Valley.
On Monday afternoon, Zambia Army officers in collaboration with other defence and security personnel gunned down the once elusive Mailoni brothers, who have terrorized the area since 2007. The notorious trio was killed while resisting authorities in an operation.
This is contained in a press statement made available to the media by George Chellah Special Assistant to the President press and public relations.
"As Commander-in-Chief, I salute our gallant forces for executing this operation with dedication and precision. As a government, we will continue using all the resources at our disposal to safeguard the country's peace and security," President Sata said.
"In view of the fact that peace has been restored in Luano Valley, I encourage my brothers and sisters to put the traumatic past behind, get back, live and work hard to create a better Zambia for all."
[Read 86 times, 1 reads today]