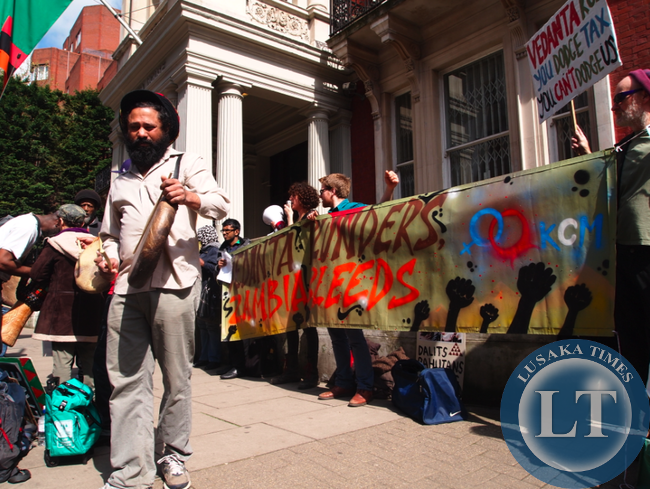 On Wednesday 9th April more than 40 protesters from Foil Vedanta(1), the Afrikan diaspora(2) and other organisations in London chanted, played drums and held banners and placards outside the Zambia High Commission in London.
Concerns
Protesters demand KCM annual reports are made public, and compensation paid to communities poisoned by polluted water.
Vedanta's share prices are falling due to opposition to their operations all over the world, for undervaluing resources and violating laws.
The protestors demanded that some of the revelations in Foil Vedanta's groundbreaking report Copper Colonialism: Vedanta KCM and the copper loot of Zambia(3) are addressed by Vedanta and the Zambian government, and asked the UK Government to formally investigate the company. Meanwhile Vedanta may be about to de-list from the London Stock Exchange as Chair Anil Agarwal becomes the 70% owner by buying up shares in the suffering company.
Protesters at the Zambian High Commission held a banner reading 'Vedanta plunders, Zambia bleeds and placards asking the UK government to bring Anil Agarwal to trail. Loud and rhythmic drums and megaphone chants echoed in the streets during the vibrant demonstration. A delegation met the Deputy High Commissioner and handed over a copy of the report in the presence of Zambian TV and diplomats. The delegation pledged to assist the Zambian government in monitoring Vedanta and making links with its operations in other parts of the world to understand its pattern of operation. The protesters called for Vedanta and the Zambian government to release KCM's annual reports, containing figures on profits and tax payment, which are currently kept secret. Figures from Vedanta's own documents, revealed in the report, suggest that KCM made $362 million in 2013, contrary to its own claims that it was making a loss and may need to be saved by the Zambian government.(4
KCM made $362 million in 2013, contrary to its own claims that it was making a loss
The report also highlighted that the true volumes of production and export from KCM are not known, and suggested that tax evasion scams such as transfer mis-pricing (undervaluing exports) and under-declaring production may be occurring. Protesters demanded an independent investigation into volumes of copper and cobalt mined, processed and exported from KCM's plants, and their direction of export.
In the UK Foil Vedanta will continue to echo the calls of parliamentarians and financiers to formally investigate and bring Vedanta to trial for its environmental and humanitarian crimes and poor corporate governance.(5)
They will also demand that Vedanta is forced to pay the fine of $2 million served by Zambian courts in 2011 as compensation to 2000 claimants poisoned by major pollution of the river Kafue in 2006, and stop ongoing spills affecting Chingola residents. (6)
Finally, they joined the calls of KCM employees and former employees in Zambia, demanding that retrenched workers are properly compensated for taking redundancy, and existing contract labourers are unionised. Following the visit of new Vedanta CEO Tom Albanese in February, newspapers reported that Vedanta has come to an agreement with the labour minister that retrenchments would be stopped and casual labourers unionised1. Protesters in London will demand that this promise is fulfilled.
Since Foil Vedanta's report was published in late January, Vedanta executives have visited Zambia more than four times, and claimed that the report is misleading and incorrect. However, as of yet no evidence has been presented by Vedanta to dispute the figures and other claims presented in the report.
Foil Vedanta's Samarendra Das says:
"There is a clear pattern in the way this company operates across India – building projects without permissions, evading tax, de-unionising and illegal mining. They have also been found guilty of gross negligence leading to mass fatalities and major pollution incidents. The Government of Zambia must make KCM's accounts and annual reports public. The Zambian people and the international community demand to know the volume of copper leaving KCM's plants."
Vedanta's share price dropped by a third during 2013, prompting Chairman and majority owner Anil Agarwal to raise his stake in the company to 69.71% to keep the company afloat, and raising questions about whether Vedanta will soon de-list and become a private company. The loss of earnings was largely due to illegalities and local protests at Vedanta's operations in India. In Goa, Vedanta's iron ore mines have been stopped for the past year following revelations that they had exported 150 million tonnes of iron ore in 2010/11 while only declaring 7.6 million, their agreed export allowance. In Odisha, their Niyamgiri mine has been banned by the Ministry of Environment and Forests due to local opposition, costing them $10 billion in lost investments, and in Australia their Mount Lyell copper mine has been suspended following a series of fatal accidents2.
Francis Wambuzi, Chair of the Former KCM Miners Association(7) and resident of Wusakile township, located beside KCM's Kitwe smelter says:
"KCM workers are being over taxed and under paid, and Vedanta has shifted the majority of workers onto contractual labour who's union they do not recognise. Those who were retrenched from KCM this year as part of cutbacks have received peanuts in redundancy pay, just like the rest of the 752 retrenched workers in our group. Their factory chokes us with sulphur and we can't even grow crops. Is this development?
We demand that Anil Agarwal answers our question: who is with-holding our severance benefits?"
100 workers staged a lock in on 17th March, refusing to come out of Shaft no 1 at KCM's Chililabombwe mine because meals for overtime workers had been stopped by KCM management.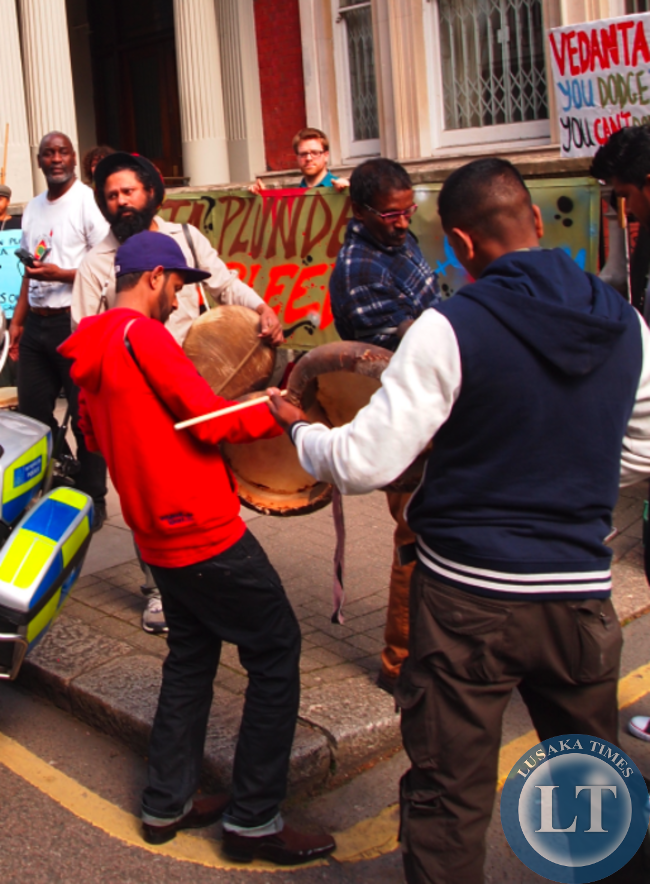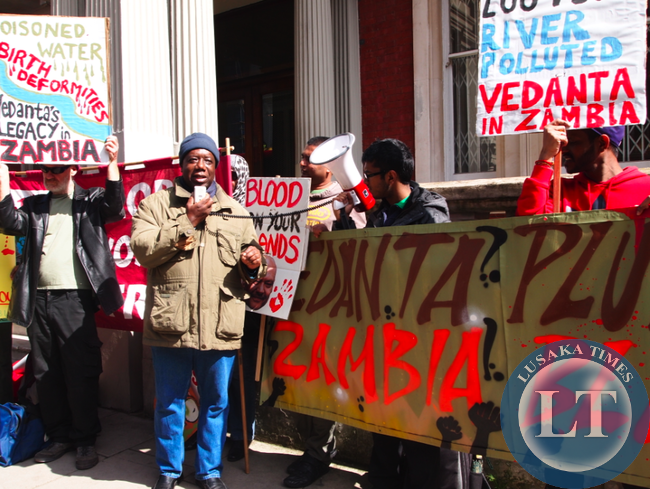 (1) Foil Vedanta are a London based international solidarity group focusing on the activities of British mining company Vedanta. We link up global communities affected by Vedanta, and hold them to account in London. We are currently aiming to make the case for Vedanta to be de-listed from the London Stock Exchange for their human rights and corporate governance abuses.
(2)Members of the Pan-Afrikan Society Community Forum, the Pan-Afrikan Reparations Coalition in Europe and the Global Justice Forum will attend the demonstration alongside other groups.
(3)The full report Copper Colonialism: British miner Vedanta KCM and the copper loot of Zambia can be found at www.foilvedanta.org. The report, released in January 2014 has caused shock waves in Zambia and raised the debate on the way copper mining companies operate in Zambia.
(4) Excerpt from report (p.12):
KCM and other mining companies in Zambia don't publish their profits, even though the Zambian taxpayer has a share in most of them via ZCCM-IH. However Vedanta's 2013 annual report claims KCM produced 216,000 tonnes of copper in 2013. In the same year costs of production were valued at 255.1 US cents/lb, putting the total cost of production that year at $1.2 billion, which would constitute a profit of $362 million (at a current copper price of $7,300).
Analysts reports from Global Data reveal that KCM made 12.19% of revenue for the entire Vedanta group in 2012 so they are certainly not doing too badly.
(5) In a parliamentary debate on 28th Nov 2012, MP John McDonnell made the case for Vedanta and other ethically contentious mining companies to be strongly regulated by the Financial Conduct Authority, including possibly de-listed 'because of their behaviour in the developing world.'3 Other parliamentarians, financiers and the former CBI Director Richard Lambert have also highlighted how Vedanta's listing is used for legal immunity to hide their corporate crimes.
Vedanta was described in Parliament by Labour MP Lisa Nandy as 'one of the companies that have been found guilty of gross violations of human rights'. Ms Nandy in her speech quoted Richard Lambert the former Director General of the Confederation of British Industries: 'It never occurred to those of us who helped to launch the FTSE 100 index 27 years ago that one day it would be providing a cloak of respectability and lots of passive investors for companies that challenge the canons of corporate governance such as Vedanta…'.4.
Similarly City of London researchers from 'Trusted Sources' have noted Vedanta's reasons for registering in London:
'A London listing allows access to an enormous pool of capital. If you are in the FTSE Index, tracker funds have got to own you and others will follow. Both Vedanta Resources and Essar Energy are members of the FTSE 100. London's reputation as a market with high standards of transparency and corporate governance is another draw for Indian companies. Both Vedanta and Essar have faced criticism on corporate governance grounds in India, and a foreign listing is seen as one way to signal to investors that the company does maintain high standards.'
(6) In 2006 KCM spilled effluent into the Mushishima stream, and the Kafue river, raising chemical concentrations in the river Kafue to 10 x acceptable levels of copper, 770 x manganese and 100 x cobalt. Thousands were poisoned, and a litigation on behalf of 2000 Chingola residents by private lawyers resulted in a landmark $2 million fine being delivered by judges in 2011 to be paid to the claimants5. However, Vedanta challenged the ruling and the case is yet to be re-heard while the fine remains unpaid. Affected residents are now experiencing birth deformities and severe health problems, while the Mushishima stream remains regularly contaminated by the KCM mine, leaving communities without clean water and suffering ongoing health problems. (See p.21 of report)
(7) The Former KCM Miners Association is a union of workers retrenched from KCM since 2000. They are 752 in total, and 235 of them were retrenched during Anglo American's ownership of KCM (2000 – 2004). None have received the full severance pay they were entitled to, while those fired under Anglo have received nothing at all. The group have been campaigning on this issue for many years.
1http://www.lusakatimes.com/2014/02/06/vedanta-resources-dismisses-reports-kcm-reporting-false-profits-loses/
2http://www.miningaustralia.com.au/news/mt-lyell-extends-operational-suspension-workers-pa
3http://www.publications.parliament.uk/pa/cm201213/cmhansrd/cm121128/halltext/121128h0002.htm
4http://www.publications.parliament.uk/pa/cm201213/cmhansrd/cm120522/debtext/120522-0002.htm
5 http://www.southerntimesafrica.com/news_article.php?id=6423&title=Zambia%20warns%20mines%20on%20pollution#.Uzmx44VrCKw
[Read 16 times, 1 reads today]