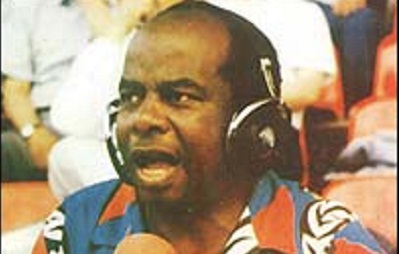 The death of Dennis Liwewe brought tears to my face and to many Zambians across the globe. It resurrected the sad memories of the 1993 Gabon disaster. But it also forced me to ask, what will be my contribution to mother Zambia?
As a child, I remember sitting and listening to Dennis Liwewe's radio commentary when Zambia or KK 11 (as we called our national soccer team), played Uganda in 1977. Poor people never had TVs in those days, and to be honest, I did not even know such a thing existed. Before the game, the music "teti tubwelela panuma baZambia" (we can't retreat Zambia), was played over and over again. Then came the game and Uganda scored first. But Zambia went on to win the game 4-2 and qualified for the Africa Cup of Nations. Liwewe's praise of mother Zambia and Godfrey Chitalu, who scored two goals, remained with me since.
I did not know much English then, but his golden voice and choice of words took me to the stadium—I watched the entire game simply by listening to him. "We are in deep trouble; they have scored; die a little for mother Zambia; it's a goaaal, Zambia, Zambia, Zambia; 360 degrees," were among the many phrases Liwewe employed. Years later, I watched soccer on TV, but I used the radio for commentary—all because of the cult of Dennis Liwewe, to which most of us are still guilty. He was not just the voice of Zambian football—he was the Zambian football I knew!
If you asked me whether I personally knew Dennis Liwewe then, my answer would have been a big yes! However, I met Mr. and Mrs. Liwewe in person in 2002, when they invited us to their home. It was then that I leaned his wife was Shona; and spoke to her in her native language. We talked about many things, but soccer dominated. He spoke about how he "counter-attacked" to win his wife on the Copperbelt. We talked about the Anglican Church, and he challenged us the young priests then to use every opportunity in life. Finally, we talked about politics. He passionately sided with President Chiluba, at the time when all his friends disowned him after President Mwanawasa lifted his immunity. "Whatever people say about President Chiluba," he told us, "that man saved my life." He said these words with great sincerity. By this time, it was almost 12am, and we had to leave. Since then, I met him at the Cathedral of the Holy Cross, each time I preached there. He was a faithful Anglican with great humility and spirituality—the aspect most people did not even know.
Liwewe is gone, but his vision remains. We can honor him by living out his dreams for mother Zambia. He did not just follow the rules of soccer commentary; he set the new standard for it. He did not just tell us about players, but defined the game within the bigger national narrative of mother Zambia. He loved the game, but loved the mighty Zambia too! To him, soccer players represented the potential of Mother Zambia—the country with many tribes soaring toward one ultimate goal—to conquer all challenges of life.
We, Zambians must use this opportunity to reflect on the kind of Zambia we need. We know that Africa is poverty and poverty is Africa; Africa is corruption and corruption is Africa; Africa is lawlessness and lawlessness is Africa. But as we mourn this great man, let us pledge to play our role. Each one of us must help write our national script. We must be "ready to conquer" poverty and injustice in this great nation; and like the noble eagle, we must help the nation soar to the brighter future.
Even after failing—as we have done over and over again—like Liwewe, we must believe that mighty Zambia will soar to new heights—where poverty will be no more. We may belong to various tribes and political parties, but as president Chiluba said at the graves of fallen soccer stars in 1993, we "must not bury the hopes and aspirations of the heroes now departed."
Tribalism, political violence, human rights abuses, insults and lack of rule of law, though part of the African socio-political narrative can be conquered by our great aspirations and dreams for a better Zambia—the mighty Zambia. We must all learn to die a little for mother Zambia; it is our nation, our only beloved mother Zambia.
Farewell Dennis Liwewe—we will surely remember you as the greatest "man who used every opportunity God gave to him." Go tell them—tell Simon Kapwepwe, Harry Nkumbula, Anderson Mazoka, Godfrey Chitalu, Efford Chabala, Bishop Mutale, Betty Kaunda, Chiluba, and Mwanawasa among many others—go tell them that we will never bury their dreams, for "mother Zambia never surrenders." May your soul rest in peace and rise in glory!
By Rev. Canon Dr. Kapya John Kaoma
[Read 27 times, 1 reads today]