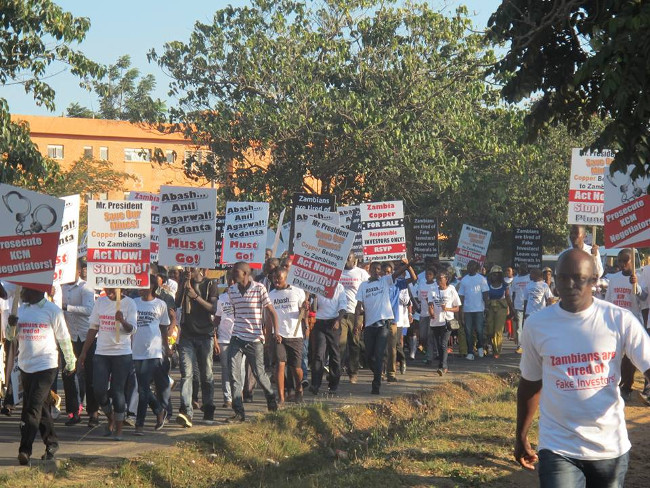 Hundreds of protestors marched to the Headquarters of Konkola Copper Mines in Lusaka Thursday afternoon over the recent controversy regarding the mining giant's tax practices.
The demonstrations were organised by ActionAid in Zambia.
The protest follows the YouTube release of a video of Vedanta Chairman Anil Agarwal apparently mocking Zambia at a trade conference over the giveaway price he paid for KCM assets.
In the video, Agarwal said: "We took over the company. It's been nine years and since then, every year it is giving us a minimum of US$ 500 million plus US$ 1 billion every year…It has continuously giving back."
Vedanta has claimed that Mr Agarwal's comments were taken out of context and that nearly all the returns from KCM have been reinvested back into KCM.
However, the statement made no mention of the company's profitability or tax payments.
ActionAid Zambia Country Director Pamela Chisanga said: "Zambia's citizens are up in arms. If KCM is engaged in tax avoidance, it would be depriving Zambia of vital revenue through taxes and dividend payments to the government. Tax is vital, it pays for schools, hospitals and roads. When big companies don't pay their fair share, Zambia's citizens suffer. Vedanta and KCM must pay their fair share of tax. The Zambian government should carry out a forensic audit of KCM accounts and publish the results."
Ms. Chisanga is asking the Zambian Government to go further than the Zambia Revenue Authority investigation and carry out a forensic audit of the company.
She said ActionAid believes transparency is vital to reveal whether Mr Agarwal's claims are true and whether the Zambian Government needs to act to recover unpaid taxes from the company.
"Further, ActionAid is calling on the Zambian Government to introduce legislation to mandate the Auditor General to audit all mining companies in Zambia," she said.
ActionAid in Zambia is also calling on the public to join the SMS action by texting their call to Government to act on the number 5577.
[Read 24 times, 1 reads today]