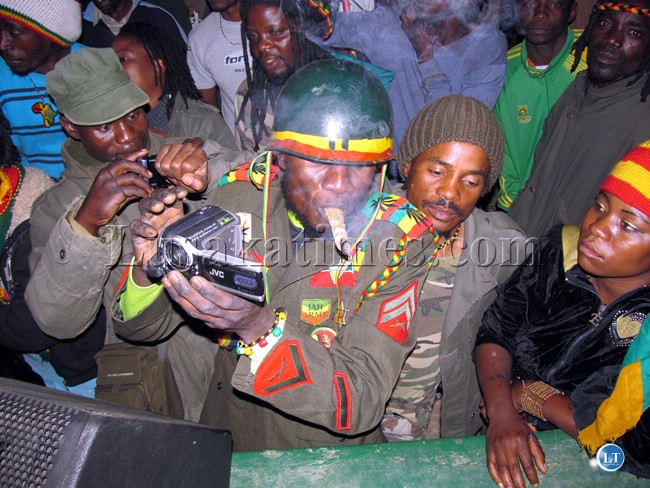 Government has said that it will extend 'Operation Chibolya Wipeout' to the remaining Don Carlos concerts to curb the rampant open marijuana and psychotropic substance abuse that characterised the reggae icon's concert at woodlands stadium.
Ministry of Home Affairs Head of Public Relations Moses Suwali disclosed this development in a press statement made available to ZANIS today.
Mr Suwali said his ministry observed with great concern the drug abuse that took place at renowned Jamaican Reggae artist Don Carlos's concert at woodlands stadium on Friday night.
He reminded reggae artists and fans that it is a serious offence to smoke or deal in drugs and other psychotropic substances in Zambia and urged concert organisers to collaborate with DEC and police to quell the drug abuse.
He said his ministry will deploy officers from Zambia Police, DEC, Immigration and other security agencies for the remaining concerts slated for Livingstone and the Copperbelt to ensure that perpetrators of drug abuse are arrested.
Mr Siwali has since strongly warned reggae fans to desist from smoking marijuana as doing so is an offence and those found wanting will be dealt with seriously.
"I urge all well-meaning fans who are going to attend the remaining Don Carlos concerts in Livingstone and Copperbelt and even other concerts and gatherings in future to refrain from smoking and committing other forms of crime. They should instead display the good virtues and values of Zambia as a Christian nation," he said.
He regretted that even when government is working hard to rid the country of drug and substance abuse as evidenced by the Chibolya raid, some people have opted to break the law.
"As a Ministry mandated by law to ensure that law and order is observed and maintained by all in the country, we refuse to sit idle and watch criminal elements committing wrong doing," said Suwali.
Recently a combined team of Zambia Police and Drug Enforcement Commission Officers conducted incessant raids on Lusaka's notorious drug haven in Chibolya Compound and arrested over 300 suspected drug dealers and confiscated huge quantities of banned substances.
The officers fought running battles with the residents who had for many years openly peddled drugs without regard for the law before being subdued.
[Read 63 times, 1 reads today]