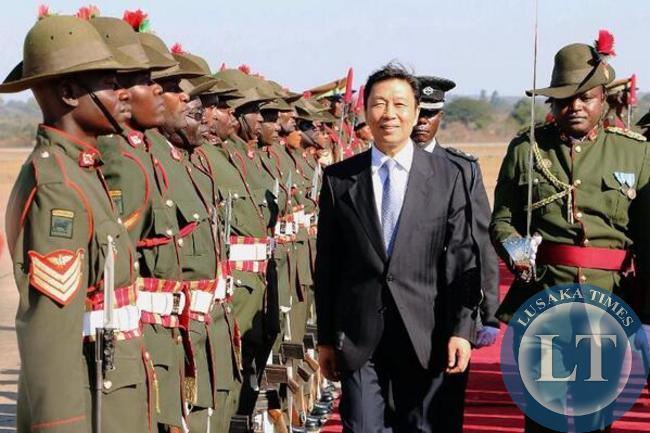 Chinese Vice President Li Yuanchao has arrived in Zambia for a three-day visit where he is expected to sign loan and grant agreements to aid Zambia's development.
Accompanied by 21 businessmen and Communist Party officials, Mr Li is due to sign eight agreements including the financing of hospital and mobile medical clinics, road construction, and electricity generation projects.
Mr. Li, the most senior Chinese leader to visit Zambia since President Michael Sata came to office in 2011, will be in the country at the invitation of the Zambian vice-president Guy Scott.
The Chinese Vice-President will hold private talks with President Sata, and also meet first president Kenneth Kaunda, PF Secretary General Wynter Kabimba as well as take part in the photographic exhibition on the results of cooperation between Zambia and China in the last 50 years.
China's ambassador to Zambia, Zhou Yuxiao said the trip is aimed at further boosting "government-to-government and party-to-party relations between our two countries." "The purpose of the visit is to commemorate the golden jubilee of the Zambian independence and the 50th anniversary of the establishment of diplomatic ties between China and Zambia and to further promote government-to-government and party-to-party relations between our two countries," Mr Zhou said.
According to the Chinese ambassador, other projects to be considered by Mr. Li were grants to be given to Zambia, borehole drilling, Levy Mwanawasa hospital expansion, Kenneth Kaunda International Airport and the cooperation in wild animal and forest cooperation.
Ambassador Zhou who said China wanted to assist Zambia with its road network, health sector and energy sector, said China was also contemplating assisting Zambia with more mobile hospitals.
China's investment in Zambia rose to US$3.8 billion last year, from the US$3.4 billion in 2012.
When we think of food production, ecosystem, health and human wellbeing, one crucial element is often not mentioned: nutrition. Nutrition is everyone's business and no one's responsibility, as the saying goes. But we know that one of the world's greatest challenges is to secure adequate food that is healthy, safe and of high quality for all, and to do so in an environmentally sustainable manner.
Although Zambia has over the past years achieved food security with regard to staple cereal, achieving food and nutrition security as recommended by the Food and Agriculture Organization and other international agencies still remains a challenge to the government.
The reality is that malnutrition is one of the greatest challenges facing Zambia today. Currently, nearly one in every two children in Zambia is stunted or small for their age. In fact, Zambia has one of the highest rates of stunting in children under five years old in the world. At 45.8%, higher than the 42% average rate for Africa, Zambia's rate of child stunting remains higher than the vast majority of it's neighbouring countries.
The high levels of Malnutrition in Zambia create an urgent call to ensure that investment in agriculture becomes a core part of the solution and a preventive strategy by ensuring food is affordable and diverse. To do this we need to Reform existing Agriculture plans to increase their impact on Nutrition by encouraging diversity in food production that is aimed at improving the nutritional outcome of the population through maximizing the positive impact of food and agricultural systems on nutrition.