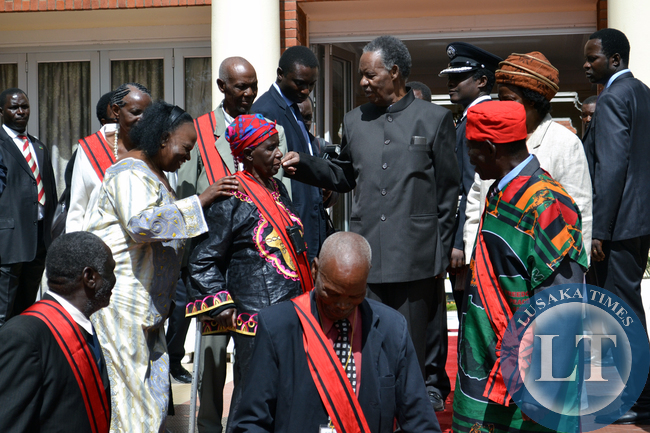 Opposition political parties have demanded that the Patriotic Front government tell the public the true whereabouts of republican president as opposed to hoodwinking people with conflicting half truths.
UPND Deputy Secretary General Kuchunga Simusamba said the PF government have failed to handle issues relating to the president's health in a transparent manner and resorted to confusing the nation with conflicting statements.
Mr. Simusamba noted that everyone in the country knows the president has some health problems as recent pictures have indicated hence PF should not be hiding behind "working holiday" when the president could have gone to Israel for medical treatment.
Mr. Simusamba questioned why the president had to secretly get out of the country if he was going on working holiday while government officials were telling the nation that their president was still in the nation.
He also noted that it is not a secret that doctors were camped at State House attending to the president hence the PF should stop confusing the public.
He added that Israeli out going President Shimon Peres is not in the country as he is scheduled to meet United States president Barrack Obama therefore will not be meeting President Sata.
Meanwhile MMD National Secretary Muhabi Lungu demanded that republican vice president Dr. Guy Scott gives a formal statement in parliament today on the health of the president as well as inform the nation on the true nature of his visit as opposed to the conflicting statements that are coming from government officials.
Mr Lungu advised the PF government to stop pretending that all is well with the president when the nation is aware that the president is not fine.
"I think rather than us being entertained to half statements or contradictory statements its better that a formal statement should be made in parliament by their vice president; they should be an official statement made in parliament itemizing a number of things; 1, how long the president will be out of the country. 2, whether it is just a working holiday or whether the working holiday has some elements of health nature and obviously we as a party wish well for the president," said Mr. Lungu.
Mr. Lungu added that the public is entitled to knowing if the president has some health related problems.